This is a listing of notifications the Parramatta Marist Old Boys Union has received of the passing of Old Boys. "Vale" is latin for farewell and "Fortior Ito" means go forward with strength.
Please use the comments section at the bottom of the page or the contact form on this website to provide further details.
Wayne Kenneth Robertson (1964)
We have been advised sadly that one of the Class Characters of the Class of 1964, Wayne Kenneth Robertson, passed away on 8 February 2016.
Wayne has been quite unwell for several years and it was fortunate for all that he was able to make it with his wife to the Class of '64 Golden Jubilee reunion in 2014. Our thoughts and prayers are with him and his family. May he rest in peace.
A long-serving policeman at state and Commonwealth level, Wayne is best described as a 'loveable rogue' by his classmates.
Leaving MBP, he joined the NSW Police Force and after initial training was stationed at Regent St, City doing General Duties in his probationary year. He then served at the Police Prosecuting Branch but did not enjoy Court work so undertook further training and was transferred to the CIB, where he served on
several Specialist Squads, including No 21 Division. He married Cheryl in 1969 and we set up home at South Strathfield. They had two sons David and Craig.
In 1977 he was recruited to the then Commonwealth Police Force as a Senior Detective in Major Crime Investigations and his family moved to Canberra from
where he worked on major investigations in Australia and around the wor1d.
This included a stint with INTERPOL. Whilst in Canberra, their daughter Hayley and another son Matthew were born. He served in the foundation Australia Police Force and then the new AFP continuously whilst living in Canberra. After illness and a heart attack he retired and we moved back to Sydney. He also leaves four grandchildren.
A long-serving policeman at state and Commomwealth level, Wayne is best described as a 'loveable rogue' by his classmates
"Sad news. Wayne was a one off. One of the great networkers and organizers I have met.
Wayne's accomplices ranged from prefects to those that recorded the absentees from the blackboard every morning.
One word to Wayne and your day of truancy was organized risk free right down to the removal of your record from the absentee list.
Shortly after we left school I asked him what he was going to do. He said " I'm joining the Police force. The opportunities are limitless. "
RIP. A love able rogue with a big heart." (Peter Costello)
"Wayne was one of the first fellows I met on my arrival at MBP.
I stood next to him and Stuart at my first assembly during which Wayne talked me out of the A Class into B which, no doubt, changed the course of my working life. It was also with Wayne ( his influence again) that I wagged school – a oncer for me but I suspect not for Wayne.
I lost touch with Wayne not long after our days at MBP – probably not such a bad thing, having regard to his power of persuasion over me.
It was good that we caught up at the reunion." (Michael Edgerton).
Peter Ross (MBP Class of 1945) passed away aged 87
Passed away 2015.
Peter was a retired School Principal and Past President of Dooleys Lidcombe Catholic Club. He was also a keen golfer.
Peter was inspirational in producing the book LCWC Golf Club "Dooleys Golf 25 Years of Social Outings". In February 2007 he achieved every golfer's ambition a HOLE in ONE at the 8th hole at Sefton. He was a life member of the Golf Club and became a life member of Catholic Club in 1998.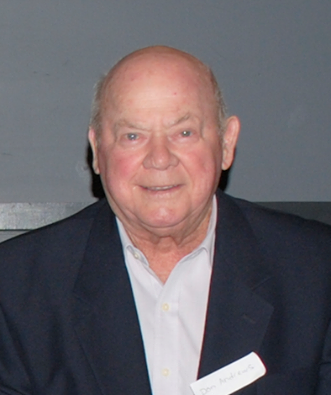 Don Andrews (Class of 1951)
Don Andrews passed away in 2015. Don was a well-respected Old Boy who was a terrific supporter of the OBU – a regular at our Annual Dinner and 'organiser' of the Class of 1951. We extend our condolences to his son Gary (Class of 1976), and to his family and extended family (especially those at Royans – http://www.royans.com.au/about-us/our-history/).
Charlie Ferraro. (Class of 1964)
Charlie did not recover from the stroke he had prior to the 2014 Class of 1964 Golden Jubilee reunion
Anthony (Tony) Cheeseman (Class of 1964)
Tony passed away on 10 August 2014 after a long struggle with stomach cancer.
Denis Normoyle (Class of 1964)
Denis passed away on 1 August 2014 after a similarly long struggle with skin cancer.
As the Cyril Shean School Pool was decommissioned in 2015 we learned that Cyril Shean passed away 28 October 2015. Cyril was an Old Boy and resident of St Vincents. Cyril continuously tended the school pool (which was named in his honour) for 32 years until his retirement in 2000. He also managed a number of the School's rugby league teams over the years. He was a man of warm and generous heart – may he rest in peace.
You can learn more about Cyril HERE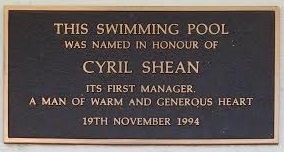 Laurence (Loz) Dermot Ryan (Class of 1961) 
On Thursday 29 May 2014 Laurie had a cerebral hemorrhage outside his Balgowlah home and died in Royal North Shore Hospital on Friday morning.
Laurence Dermott Ryan was in the Intermediate Certificate Class of 1959 at Marist Brothers High School, Lidcombe and the Leaving Certificate Class of 1961 at Marist Brothers High School, Parramatta.His brother, Terry was in the MBP LC Class of 1963.
Vale James Patrick (Pat) Flaherty – an Old Boy and former mayor of Parramatta and State Member for Granville
John Flaherty, son of James Patrick (Pat) Flaherty , advised us that his father, Pat Flaherty, former Mayor of Parramatta (1962) and Former Member for Granville, passed away at approximately 2.30am on Monday 9 December 2013, just 3 days short of his 90th Birthday on the 12 December 2013.
Pat had been dealing with Kidney stones for the past 50 years. He was diagnosed with Prostate Cancer in 1995, and subsequent treatment put him into remission up until the start of 2012, where it was apparent that the cancer had returned.
He passed quietly in his sleep, whilst in the Palliative Care unit here in Townsville, due to Kidney complications. He is survived by his wife Joyce, and his son's David, James and John.
Our prayers are with Pat's family and we give thanks to a life of community service and the pursuit of social justice.