---
1957

---
1964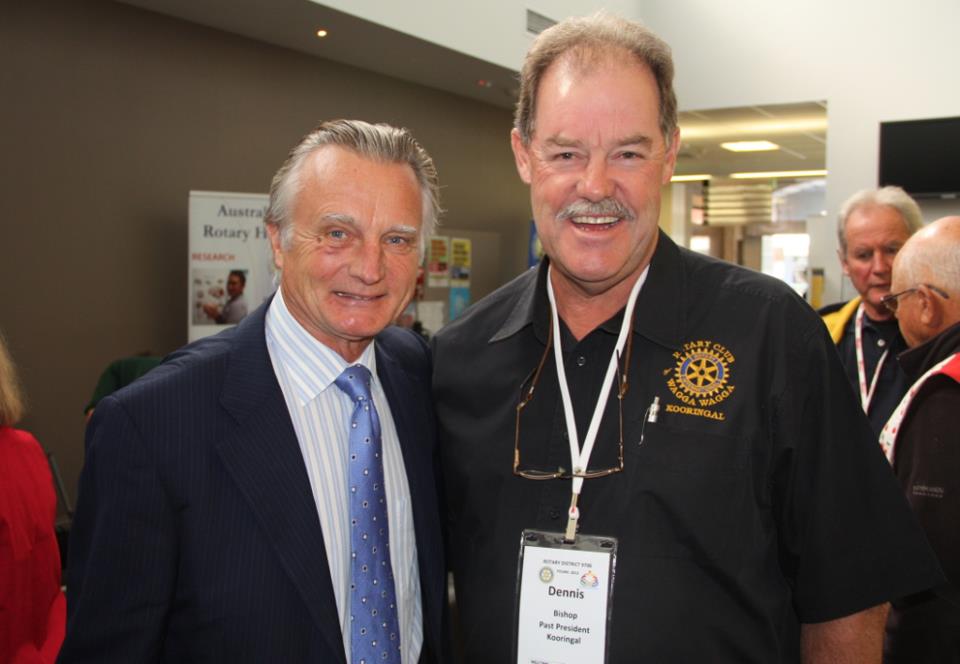 Thinking about a re-union for the 1964 Leaving Certificate Class? Source: Dennis Bishop who wrote "I bumped into Chris Jurd and Graham Malouf at a Parra match many years ago, which we lost. Ron Miles and I spent time as principals of Dulwich High and Mt Austin High (Wagga) respectively and met up at several conferences. I have been a Rotarian for many years and in 2012 caught up with Jeff McMullen who was the keynote speaker at a conference in Young. Despite old age and a fading memory, I relish the opportunity to catch up with some of you."
---
1970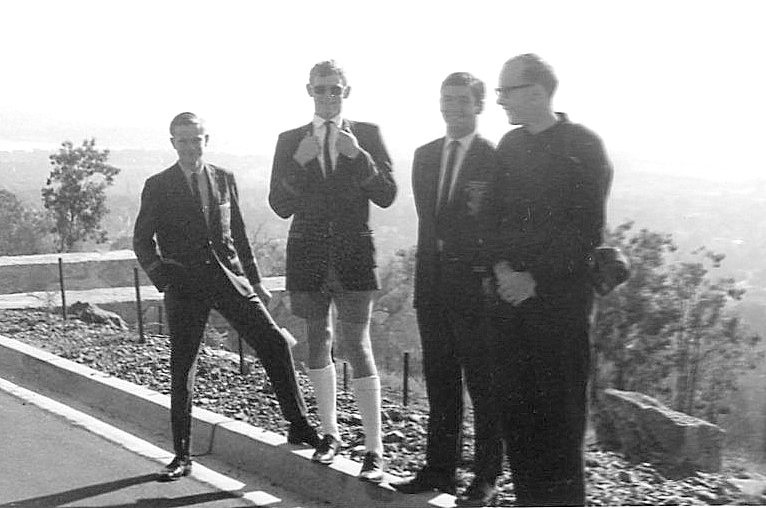 ---
1976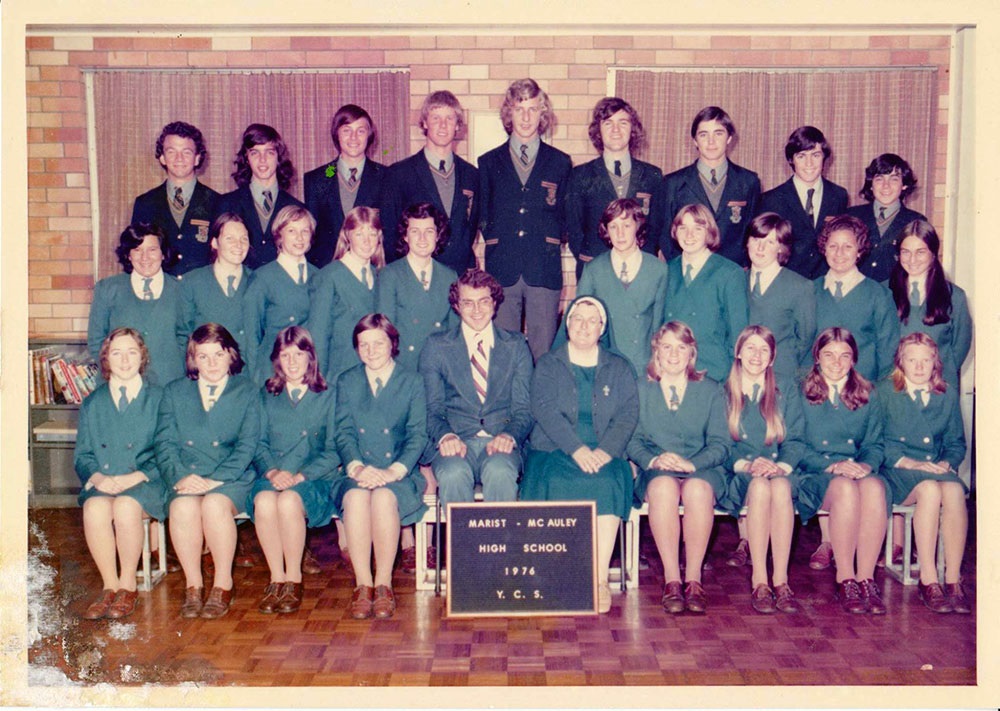 YCS (Young Christian Students) at Parramatta Marist –
YCS at Parramatta Marist ran as a joint association with Catherine Mcauley High School. Here is a photo from 1976. Can you put any names to the faces? The girl next to the nun is Cathy Gardiner from Toongabbie.
Are there any other images or stories about YCS?
There was a girls' president and a boys' president. The YCS girl president of 1975, Marie Gudgeon, later married the YCS boy president of 1975, Laurie Borg.
---
1977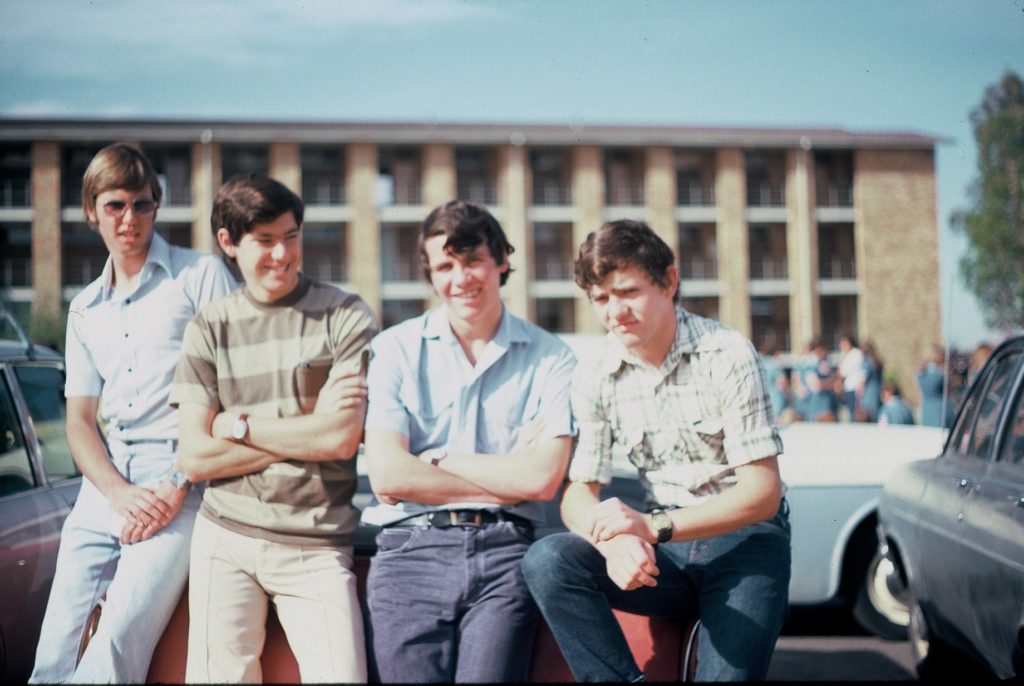 ---
1986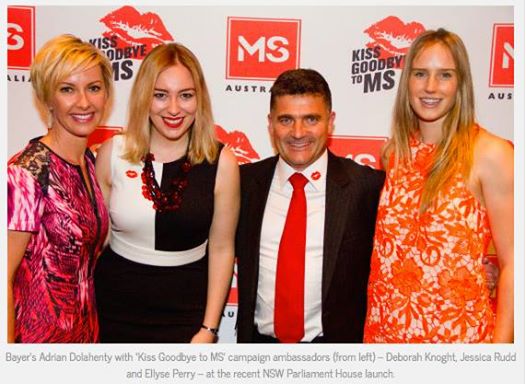 In 2014 Multiple Sclerosis Research Australia's launched its 'Kiss Goodbye to MS Campaign' at Parliament House, NSW. Our Old Boy Committee Member, Adrian Dolahenty (Class of '86) was there to represent his employer, Bayer Pharmaceuticals – one of the backers of the campaign. Also present to help launch the campaign, was Australian dual international sportsperson, Ellyse Perry, the daughter of our very own Old Boy and ex-teacher, Mr. Mark Perry. If you wish to support the MSRA campaign, please visit www.kissgoodbyetoms.org and donate a 'kiss'!
If any Old Boys are involved with community causes, please let us know about the good work.
---
1995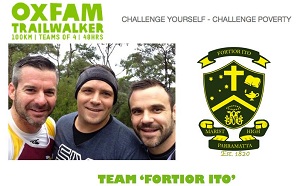 In August 2014 Parramatta Marist High Class of 1995 schoolmates Ben Bailey, Chris Kennedy, David Pottzy McLean and Simon Gwynne took on the 100km OXFAM TRAILWALKER to help some of the poorest people on earth.
The walk took approximately 30 hours to complete the 100 km from Parsley Bay in Brooklyn on the banks of the Hawkesbury River to Mosman.
Their goal was to raise $4000. Their team name was FORTIOR ITO. In the end, according to the Oxfam website, they raised $11,543. They definitely went forward with strength.
---
2014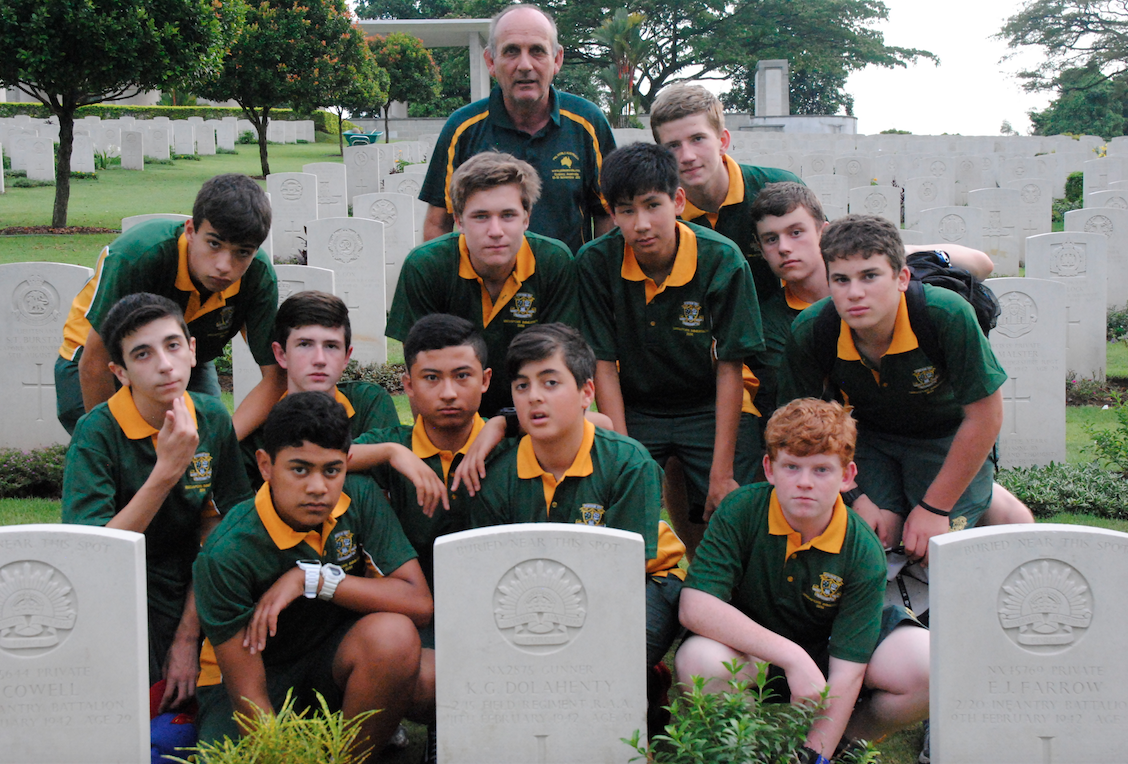 Gunner Dolahenty's grave at Kranji War Cemetery –
In 2014, some of our students visited Gunner Dolahenty's grave at Kranji War Cemetery whilst on an immersion trip to Singapore
---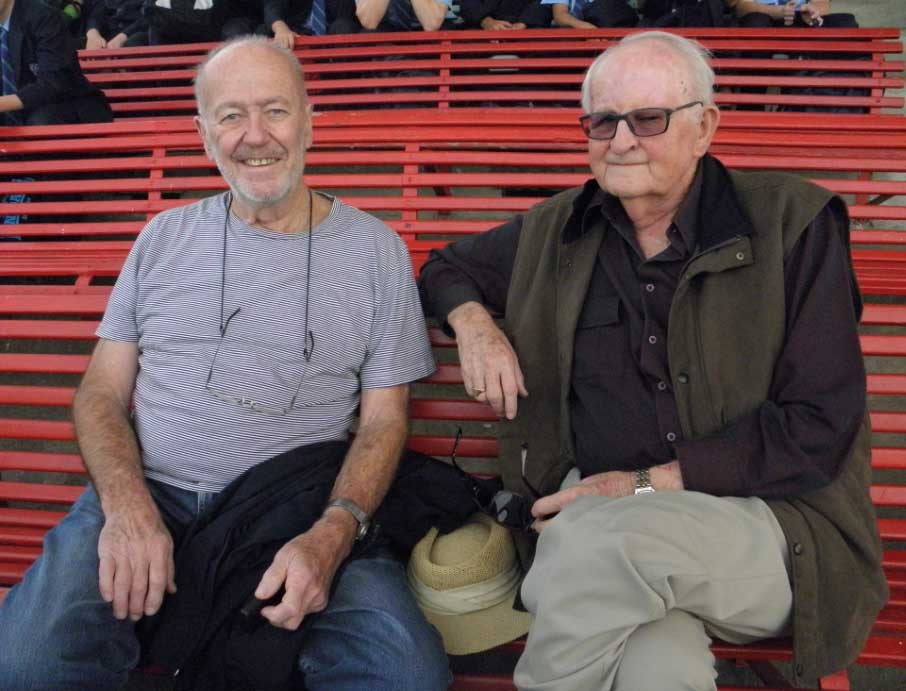 Rugby League Centenary – Old Boy spectators – The Old Boy spectators are Colin Walsh and John Donnellan from the Class of 1955
---
12 Past School Captains Attend 2014 Parramatta Marist High Commencement Mass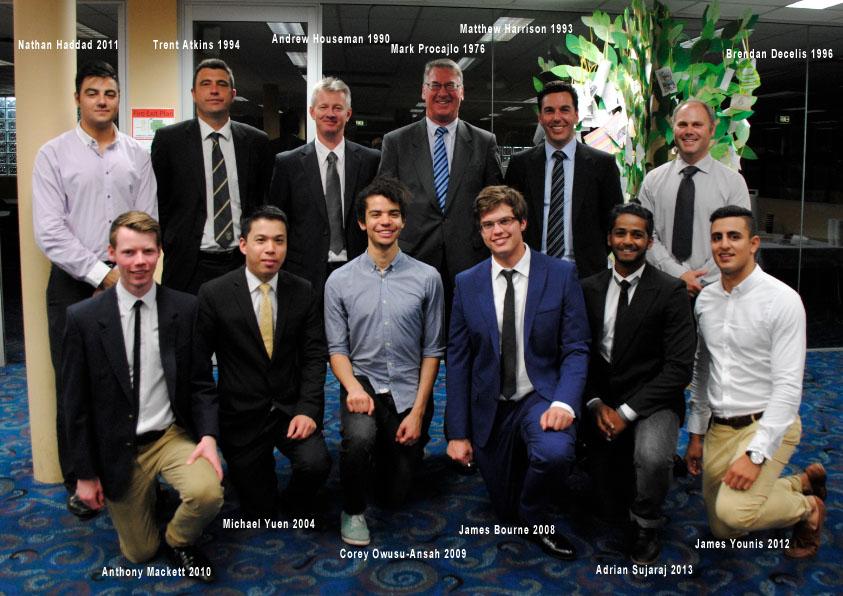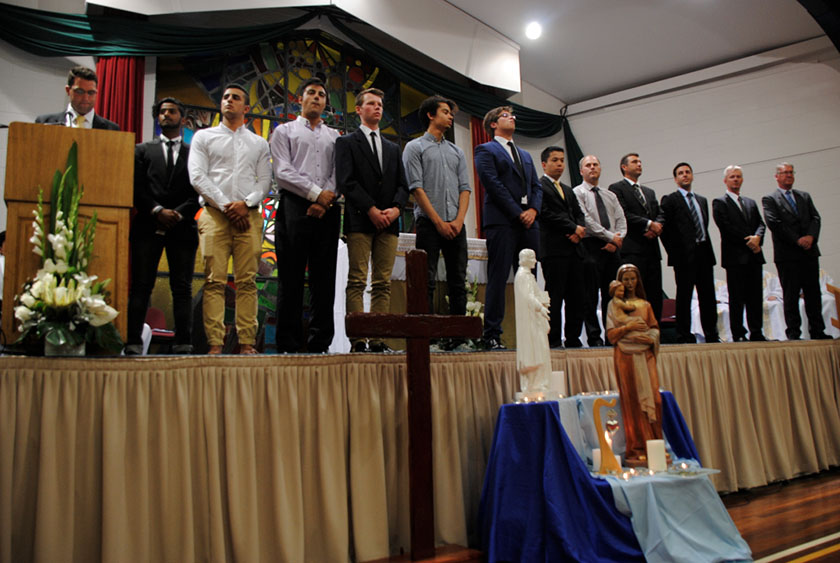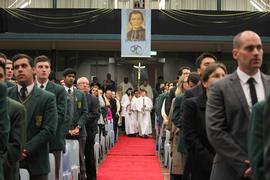 On Tuesday 11 February 2014 12 past school captains attended the 2014 Commencement Mass and installment of the new prefects. Adam Hendry, president of the Old Boys Union and teacher at the school reported that many comments have been made by staff and students in the following days about the impact of the past school captains being present.
In the photo looking at the stage – from right to left – the past school captains in attendance were:
Mark Procajlo – school captain 1976
Andrew Houseman – school captain 1990
Matthew Harrison – school captain 1993
Trent Atkins – school captain 1994
Brendan Decelis – school captain 1996
Michael Yuen School – school captain 2004
James Bourne – school captain 2008
Corey Owusu-Ansah – school captain 2009
Anthony Mackett – school captain 2010
Nathan Haddad – school captain 2011
James Younis – school captain 2012
Adrian Sujaraj – school captain 2013
---
2015
Problem-based Learning Singapore Immersion Programme October 2015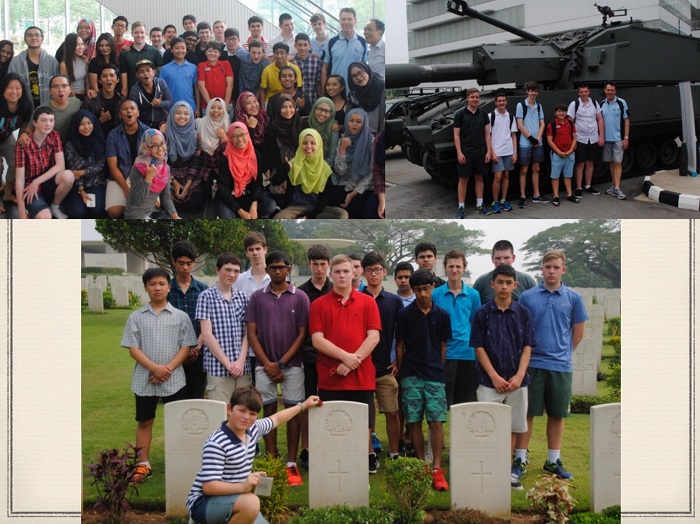 Problem-based learning (PBL) is a student-centered method of teaching in which students learn about a subject through the experience of solving an open-ended problem. Students learn both thinking strategies and domain knowledge. Parramatta Marist is a leader internationally in the application of PBL to high school education. Read more about PBL
20 students and staff from Parramatta Marist attended the International Youth Immersion Programme in Singapore, October 2015.
Patrick Dolahenty (Year 9), son of OBU Committee Member, Adrian Dolahenty (Class of 1986) visited the grave of his relative and our Old Boy, Gunner Kevin Dolahenty, who was killed fighting the Japanese in WW2. He is buried at Kranji Commonwealth Grave, Singapore. Currently, the School has year 9 and 10 students on an immersion tour in Singapore. Read more about Gunner Kevin Dolahenty.
---
2016
Past School Captains at the 2016 Commencement Mass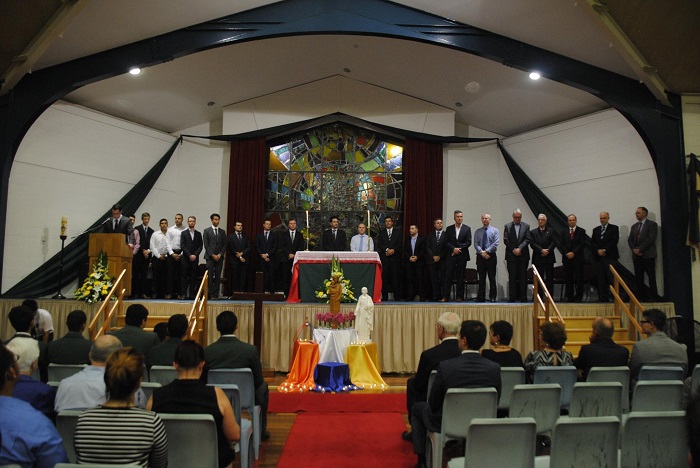 Thank you to the past School Captains who attended the 2016 Commencement Mass and oversaw the investiture of our School leaders for 2016. Their presence adds and means so much to the school community. Click om the image to enlarge. From L to R Front: Nathan Haddad (SC 2011); Corey Owusu-Ansah (SC 2009); Alf Smith (SC 1961); Caleb Toevai (SC 2016); Sydney Cooke (SC 1955); Jacob Boutros (VC 2016); Brendan Decelis (SC 1996); Anthony Mackett (SC 2010). Standing: Adam Hendry (OBU President); Mark Elias (VC 2012); Tony Lahoud (VC 2015); Peter Kramer (SC 2005); Brad Murphy (SC 2015); Stephen Samson (SC 2014); Stephen King (SC 1980); Greg King (SC 1978); Mark Attwood (SC 1977); Justin Decelis (SC 1991); Andrew Houseman (SC 1990); James Boyer (SC 2003); Mark Procajlo (SC 1976); Steve Carr (SC 1997); David Askew (VC 1990). In attendance but not pictured: Trent Atkins (SC 1994); Dr Toby Nasr (VC 1992); James Bellew (SC 1998).
The commissioning of the 2016 school leaders concluded the Mass, where previous school captains presented the new leaders with their badges.