---
Jeff McMullen AM Author, Journalist & Humanitarian (1964)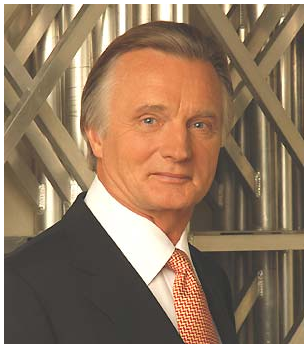 Dr. Jeff McMullen AM is a well known journalist, author and humanitarian who has been honoured by various institutions not just for his journalistic endeavors but for his wide-ranging humanitarian work, in particular, for his work with the indigenous people of Australia and of other countries. Lear more about at Wikipedia and on his website HERE
Jeffrey John McMullen AM, is an Australian journalist and author and television presenter. He was a foreign correspondent for the Australian Broadcasting Corporation for almost two decades (1966–1984), international reporter for the investigative television program Four Corners and later joined the Australian version of 60 Minutes (1984–2000).[2]
In 2007 he hosted a 33-part discussion series on ABC1 titled Difference of Opinion.[1] and later chaired many Indigenous forums on NITV. He is the author of a number of books including A Life of Extremes – Journeys and Encounters (HarperCollins Australia 2001); Dispossession : Neo Liberalism and The Struggle For Aboriginal Land Ands Rights In The 21ST Century ( In Black & White, Connor Court Publishing, 2013) and Rolling Thunder: Voices Against Oppression (The Intervention 2013)
---
Tony Ward – Television Journalist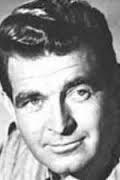 He realised the potential of television and joined Channel 9 in Adelaide soon after television began there in 1959. He worked as a producer and director, and also appeared as a newsreader and in advertisements. He became the first television reporter for Channel 7's Seven Days program and then joined Bill Peach on Channel 10's Telescope current affairs program.
In 1966, Crawford Productions chose him for the title role of Hunter, their new James Bond-style action series.  He said of this role: "Hunter was a project which fired my imagination. I had no doubts about giving up a good career in current affairs for an opportunity like this – it was Heaven sent."  He starred opposite Gerard Kennedy who played his arch enemy. The series rated highly and he travelled around Australia and overseas on location, performing many of his own stunts. He left the series after disagreements with Crawfords, particularly over the quality of the later scripts. He said, "The firm has shown initiative, courage and ambition and has made a valiant effort … But 39 episodes of Hunter this year was far too ambitious. This outstripped the ability of the scriptwriters."
He returned to current affairs, becoming the first reporter on Mike Willessee's A Current Affair program in 1971. He is recognised as the person who discovered Australian comedian and actor Paul Hogan. Willisee was looking for a comedian to do a weekly commentary on events, and Ward suggested Hogan having seen him on the New Faces television show. Ward auditioned Hogan by interviewing him on Sydney Harbour Bridge where he worked as a rigger. (Now there is some effective MBP / PMH Old Boy networking!). Ward was the only original reporter still on A Current Affair when it was cancelled in 1978.
Ward appeared in other television series such as Sons and Daughters, Skippy, The Long Arm and Dynasty. He reported for ABC's Nationwide and made documentaries for SBS Television, and also appeared in television commercials, including for Ardath cigarettes and car insurance.
If ever there was a Logie for TV's best all-rounder … – Obituaries 2006 (Note reference to 1924 should read 1942)
See Tony in his other role as an actor. He had a starring role in the series "Hunter"
---
Percy 'Waratah' Hurley – Garden Writer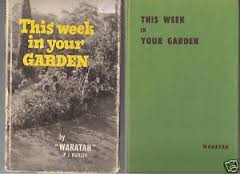 Developed an interest in horticulture after leaving school. He became Australia's leading garden writer and wrote for the Sydney Morning Herald for 32 years under the pen name 'Waratah'. One of his books "This Week in Your Garden" was last published as a 3rd edition in 1970.
---
Cornelis Vleeskens – prolific writer, artist, poet and publisher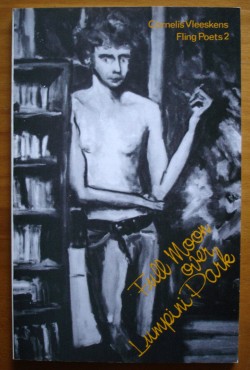 Born: 1948 Scheveningen, Netherlands. Arrived in Australia: 1958. Died 11 May 2012.
Cornelis was schooled at Marist Brothers Parramatta. He studied for a Bachelor of Arts (Hons) degree in English at the universities of Sydney and Queensland.
He travelled widely in South-East Asia, Hong Kong and Japan and has worked mainly as a psychiatric and geriatric nurse. He began writing in English, made some attempts to write in Dutch between 1979 and 1984 and then began writing predominantly in Dutch in 1987. he has written more than 25 books of poetry and prose.
Cornelis left his mark in many fields as a prolific writer, visual poet, artist, poet, collagist, translator, editor, and publisher. His visual work has been exhibited in Australia, USA and Europe. He wrote using words and visual images or a mixture of the two. Vleeskens' work is often elliptical and allusive and frequently draws on his Dutch heritage.
His first published book was "Hongkong Suicide" (1976) and published over twenty five books since then.
---
David Armstrong – Journalist & Newspaper Editor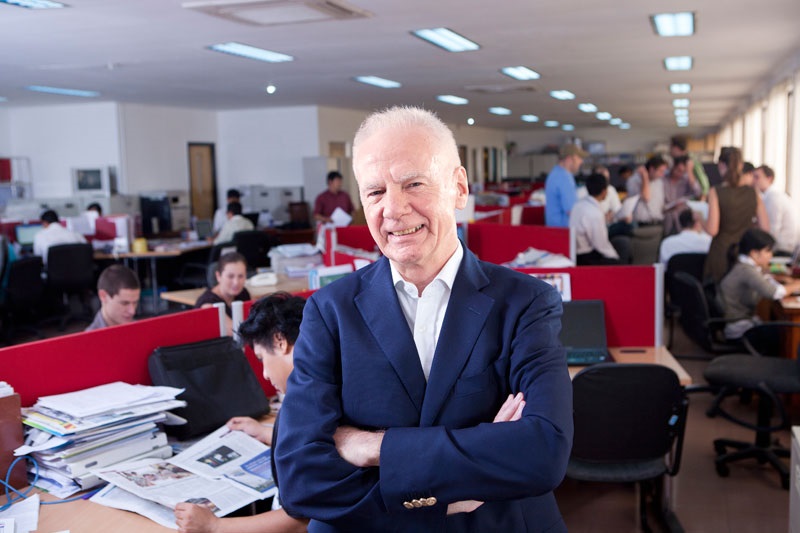 David Armstrong has had a long and successful career in journalism and the media exceeding over 40 years. This included as editor-in-chief of the 'Australian' from 1996-2002, and from 1985 to 1996 was variously editor of the 'Bulletin', the 'Australian', the 'Canberra Times' and the 'South China Morning Post'.
In 2008 David retired from full-time work after 40 years in journalism. He stepped as president and chief operating officer of the 'Bangkok Post's publisher, Post Publishing.