---
Sir James Martin (Premier & Chief Justice) (1833)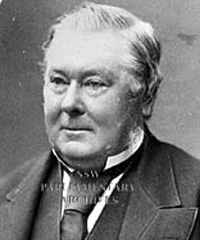 Began his education at the Catholic School in Parramatta (the beginning of Parramatta Marist). A brilliant student he moved onto a dames school then onto WT Capes School. He was articled to GR Nichols, editor of the "Australian". He was elected to the New South Wales Parliament in 1856 and became Attorney General. He led the government as premier and attorney general from 1866 – 1868. Henry Parkes was part of his ministry.
he was knighted in 1869 and in 1872 became Chief Justice of New South Wales. He became an Anglican when he married. He and Lady Martin had 15 children, 8 sons and 7 daughters. Martin Place is named after him. He died 14 November 1886. (See Australian Dictionary of Biography.). A PDF Version can be downloaded HERE
---
George Thomas Ford MLC
ALP Member of the NSW Legislative Council 1964-1966.

Labourer and union official. Moved with family to Parramatta as a child. Educated at Marist Brothers' Parramatta. Worked in a biscuit factory from 1928 until 1941; builders labourer from 1945 until 1950; paint maker from 1950 until 1954; shop delegate to Federated Miscellaneous Workers' Union, assistant secretary from 1954 until 1966.
---
Fred Cahill
Frederick Joseph Cahill (16 July 1898 – 5 November 1980) was an Australian politician. He was a member of the New South Wales Legislative Assembly from 1941 until 1959 . He was a member of the Australian Labor Party (ALP).
Fred was born in Ballina, New South Wales. He was the son of a timber feller and was educated at Parramatta Marist High School and St Joseph's, Lochinvar. He initially worked as a journalist and moved to Young in 1923 as a reporter for the Young Daily Witness. He was the director of publicity for Newcastle City Council between 1934 and 1940. In 1934 he helped establish the New South Wales Country Rugby League.

During World War 1, Cahill served with the Australian Imperial Forces and was wounded in France. In the Second World War he served with the Royal Australian Air Force until 1941. At the 1941 state election, Cahill was elected as the Labor Party member for Young defeating the sitting Country Party member Albert Reid. He remained the member for Young until he retired at the 1959 election. He did not hold ministerial or party office. Cahill was awarded an MBE and the French National Order of Merit. (Source Former members of the New South Wales Parliament, 1856-2006)
---
Dan Mahoney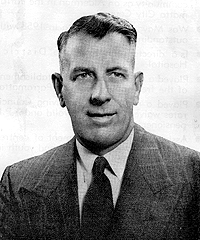 Dan John Mahoney (1909 – 1996) Educated at Marist Brothers' High School at Parramatta, and was a Postmaster General's employee from 1925 until 1959. He served as an alderman on Parramatta City Council from 1954 – 1959 (including a term as Mayor in 1958). Following this he was elected as the state member for Parramatta from 1959 to 1976. He was easily re-elected on five occasions, always winning on the primary vote. The reserve at 75 Gladstone Street North Parramatta named after him.
Source: Parramatta City Council and Wikipedia and Former Members NSW Parliament
---
Pat Flaherty
James Patrick Flaherty (born 12 December 1923) is an Australian politician. He was an Australian Labor Party member of the New South Wales Legislative Assembly from 1962 to 1984, representing the electorate of Granville.
Flaherty was born in Granville, and was educated at Blaxcell Street Public School and Marist Brothers High School, Parramatta. He was a carpenter and joiner by trade. He was an alderman on the City of Parramatta council from 1957 to 1962, serving as Deputy Mayor in 1960 and Mayor in 1962.
Flaherty entered state politics at the 1962 state election, when he defeated the incumbent Labor MLA for the safe seat of Granville, Bill Lamb, for preselection. He was re-elected without difficulty on seven occasions, and retired at the 1984 state election, where he was replaced by future federal minister Laurie Ferguson, (son of another Old Boy).
John Flaherty, son of James Patrick (Pat) Flaherty , advised us that his father, Pat Flaherty, former Mayor of Parramatta (1962) and Former Member for Granville, passed away at approximately 2.30am on Monday 9 December 2013, just 3 days short of his 90th Birthday on the 12 December 2013.
Pat had been dealing with Kidney stones for the past 50 years. He was diagnosed with Prostate Cancer in 1995, and subsequent treatment put him into remission up until the start of 2012, where it was apparent that the cancer had returned.
He passed quietly in his sleep, whilst in the Palliative Care unit here in Townsville, due to Kidney complications. He is survived by his wife Joyce, and his son's David, James and John.
Our prayers are with Pat's family and we give thanks to a life of community service and the pursuit of social justice.
---
Jack Ferguson (A Deputy Premier)
Jack Ferguson was born in the inner Sydney suburb of Zetland and was educated at Granville Convent and Marist Brothers, Parramatta. He worked as a farmhand, textile worker, builder's labourer and bricklayer and was an organiser for the Building Workers Industrial Union. He served in the Second Australian Imperial Force from 1942 to 1946. He was an alderman on Parramatta Council from 1954 to 1959, and Deputy Mayor in 1959. He married Mary Ellen Bett and they had three sons (Laurie Ferguson, Martin Ferguson and Andrew Ferguson) and two daughters.
Ferguson was the member for Merrylands from March 1959 to 1962 and 1968 to 5 March 1984. From 1962 to 1968, he was member for Fairfield. A member of the Australian Labor Party's left wing, he was best known as Deputy Premier and Minister for Public Works and Minister for Ports, from May 1976 until February 1984, in the cabinet headed by Neville Wran. He was also Minister for Housing from May 1976 to February 1977.
The State Government Office block in George street Parramatta in named after him. Turned down a state funeral because he argued it would be "a complete waste of taxpayer's money". Died of mesothelioma (asbestiosis), contracted as a young building worker. Source: Wikipedia and Workers Online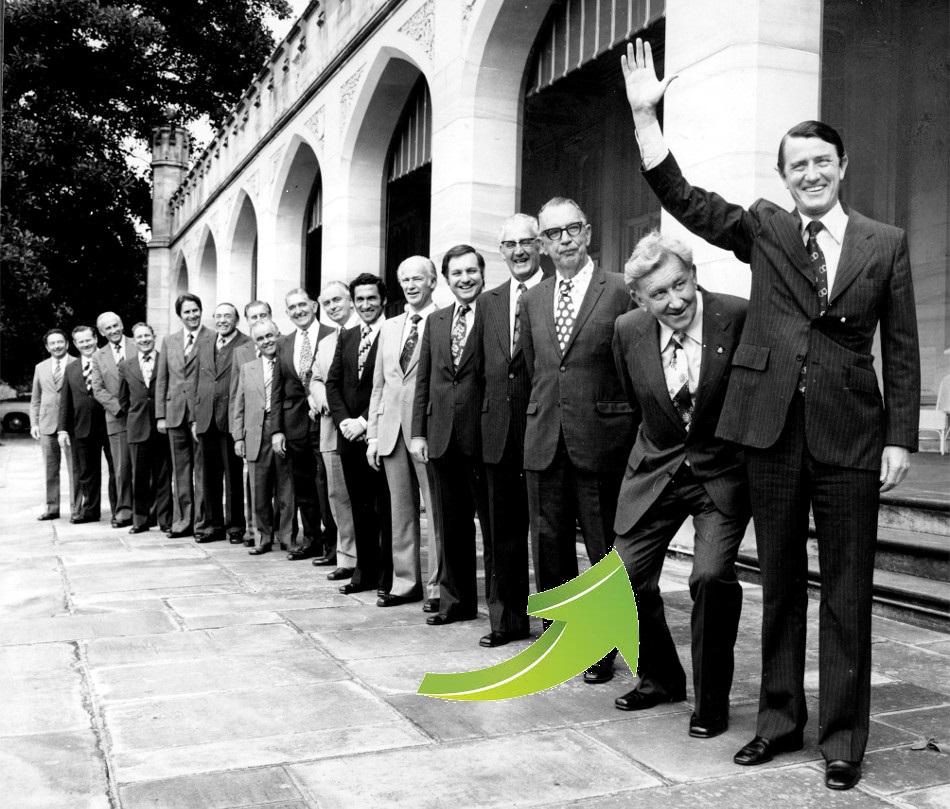 Jack Furguson at swearing in 1976 Ministry –
NSW Labour Ministry
The NSW Labor Ministry is sworn-in, in Sydney, 15 May, 1976. Lining up behind Premier Neville Wran are Deputy Premier Jack Ferguson, Jack Renshaw, Peter Cox, Frank Walker, Pat Hills, Paul Landa, Don Day, Harry Jensen, Bill Crabtree, Kevin Stewart, Syd Einfeld, Ron Mulock, Ken Booth, Lindsay Gordon, Rex Jackson and Bill Haig.
---
Andrew Ziolkowski
Andrew Charles Frederick Ziolkowski (12 December 1963 – 12 April 1994) was an Australian politician. He served as an Australian Labor Party Member of the New South Wales Legislative Assembly from 1991 until his death in 1994, representing the electoral district of Parramatta. He was one of three New South Wales MPs to die that year, with John Newman (47) dying close before and Tony Doyle (41) following soon after. He was succeeded in office by his wife, Gabrielle Harrison.
iolkowski was born in Forbes, New South Wales, the son of Wladyslaw Ziolkowski – a Polish immigrant – and his wife Roma Ziolkowski. He moved to Parramatta, in western Sydney, as a child. He grew up in Parramatta, and attended St Patrick's Primary School and Parramatta Marist High School.
After finishing school he worked as a Process Worker for Alcan in Granville and as a Steelworks Tradesman's Assistant for BHP in Wollongong. Ziolkowski's political career began as a result of his involvement in trade unions and student politics. He attended university at Macquarie University, where he sat on the executive of the Students' Council and edited the student newspaper, Arena. It was during his student days that Ziolkowski met his future wife, Gabrielle Harrison, who was chairman of the Student Union at the time.
NSW Premier Bob Carr would later tell Parliament, "Andrew was editor of the Macquarie University student newspaper Arena, while Gabrielle continued as the president of the Students' Union. I understand that his wife got a lot of coverage in the student paper." Ziolkowski married Harrison on 30 November 1985 and she elected to keep her own name. After university, Ziolkowski, who had been involved in Young Labor at university, found work as an Industrial Research Officer for the then-Member for Parramatta, John Brown. In 1990 he was appointed a union official for the Transport Workers Union of Australia.
Ziolkowski was elected Member for Parramatta in 1991. At the age of 27 he was the youngest person ever elected to the New South Wales Parliament, and his difficult-to-pronounce surname soon saw him dubbed "Zorro" by fellow MPs. In July 1993, Ziolkowski advised the Leader of the Opposition, Bob Carr, that he had been diagnosed with a rare form of cancer, affecting the oesophagus and by September 1993 was forced by illness to stop attending parliament. He finally succumbed in early 1994.
Ziolkowski's death resulted in a by-election on held on 27 August 1994, which his wife, Gabrielle Harrison, went on to win. He was survived by his wife and a son, Tristan, then aged 7. In her maiden speech to Parliament, Harrison stated:
"Andrew had hoped to publicly thank the staff of ward C5C at Westmead Hospital for their dedication and many acts of kindness. It is appropriate that I do that tonight on his behalf. "
Source: Wikipedia & Former Members NSW Parliament
---
Maxwell "Shayne" Mallard
Source: Wikipedia Things have changed a lot over the years. In days gone by being Catholic meant you voted either Labor or DLP. To the point when the ambitious Billy McMahon converted from Catholicism to Anglicanism and became a Mason in order to remove barriers to his progress professionally as a lawyer and within the Liberal Party. (Billy McMahon decided to become an Anglican while at Sydney University – p.17 John Wurhurst "The Faith of Australian Prime Ministers 1901-2010" [2010]) This was also the case with the former Premier and Chief Justice of NSW, James Martin, an old boy of the School in the 1820s.
Shayne Mallard was President of the New South Wales branch of the Young Liberals from 1993 to 1994. Prior to election to the City of Sydney Council in March 2004, Mallard served as a Councillor on the South Sydney City Council, from July 2000. In 2004, both Councils were amalgamated. Mallard is the first Liberal endorsed candidate elected to the City of Sydney. He remained on Council until 2012.
After a successful local government career in the inner city he has now moved back to the region and the beautiful Blue Mountains with his Danish born partner.
In September 2012, Mallard was endorsed as the Liberal Party candidate for the NSW Legislative Assembly seat of Sydney. He was not elected but undaunted he was elected to the New South Wales Legislative Council on the Liberal/Nationals ticket at the 2015 state election, endorsed as the seventh candidate. Other information about Shayne as reported in SMH. Further information: www.parliament.nsw.gov.au/members and www.shaynemallard.com.au
As at October 2021 Mallard was the Government Whip in the Legislative Council, and Parliamentary Secretary for Infrastructure and the Aerotropolis
Meet Shayne Mallard 12 October 2012
Brent Kelly Foundation 26 November 2018