---
George Khattar (1983)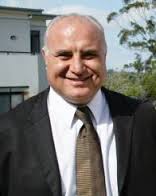 Mr. George Khattar (1983), passed away aged 44 from a heart attack. George, through his family owned business, DYLDAM, had contributed much to our school and the wider community. He has been sorely missed. His legacy continues through The George Naim Khatter Foundation.
Also read the tributes to George in the NSW State Parliament
---
Phillip Ruthven (1956) – Founder and Chairman IBISWorld
Phillip completed his BSc at the University of NSW after completing the leaving certificate in 1956. After 12 years in the food industry, in 1971, he established his own business information company, IBISWorld, operating in Australia, Indonesia, UK, US, China and Taiwan. IBISWorld is now Australia's best known business information, forecasting and strategic services corporation. IBISWorld continues to be a privately owned company.
Phil Ruthven's presentation at The Future of Work Conference – 3 & 4 October 2012
Phil Ruthven (1956) Interviewed ABC News Radio on 5 January 2016
ABC News Radio's Marius Benson speaks to Old Boy Phil Ruthven – founder of analysis group IBISWorld about the facts on tax.
The link to the ABC News Radio page for the interview is HERE
soundcloud.com/user-569505229/160105philruthven
---
John Bateman (1975) – Nepean Region Community Leader
John has been heavily involved in Penrith community life for many years both as a businessman, community member and City Councillor, having served as mayor 1998-2000.
He was a board member of Penrith Rugby League & Football Clubs and the Joan Sutherland Performing Arts Centre and is still an Executive Member of the Penrith Valley Sports Foundation which he founded as Mayor in 2000.
John has also been a passionate advocate for Penrith's economic future as a board member and current (2012) Chairman of the Penrith Valley Economic Development Corporation.
Most recently, John founded the Nepean Philanthropists – a group dedicated to funding the work of the Nepean Medical Research Foundation. This important centre for medical research and teaching is located here in Penrith and, in 2007, the Foundation received more than $100,000 in grants from the Philanthropists towards its groundbreaking research projects. Not content to settle for that, John encouraged the University of Sydney to match the funding and I know he has set an increasingly ambitious target for the Philanthropists this year.
John was awarded Penrith Citizen of the Year in 2008. He is also a principal of a leading Law Firm in Penrith – Bateman Battersby.
---
Robert 'Bobby' Sepping – A pioneer of the bicycle retailing industry(1960)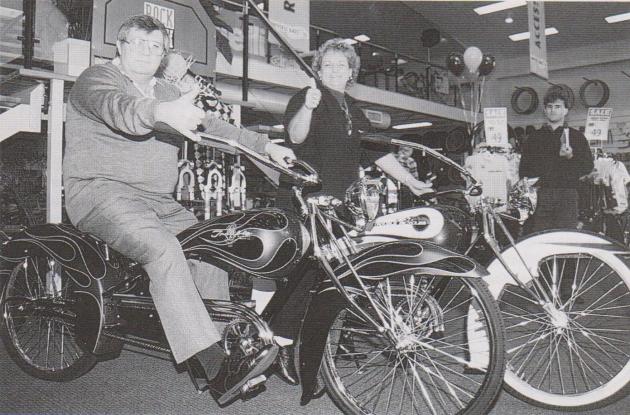 One of the bicycle industries most colourful and best known retailers died on Wednesday 14th October 2015 aged 71. Robert Sepping, known by all reps and customers as 'Bob', took over Universe Cycles on Church Street Parramatta from his father Alan Sepping and proceeded to build what was at one time one of the largest bicycle retail chains in Australia.
Bob was born on 3rd November 1943. He joined the NSW Police and loved working there, but was eventually persuaded by his father to come into the family bike shop.
At the time there were three stores in the Universe Cycles group.
Bob expanded the business from his long term main store in Church St Parramatta to encompass about several more smaller shops spread throughout Sydney.
Then in 1997 he made a major investment in opening his first 'Universe Bikes R Us' mega store a couple of kilometres up the road from his headquarters.
The store covered 2,500 square metres with capacity to display 2,400 bicycles.
At least one other mega store in the southern suburbs followed, but both stores were relatively short lived.
One man still in the bicycle industry who knew Bob well is Greg Williams who now owns Windsor Cycles north-west of Sydney.
"I worked for Bob for 13 years," Greg recalled. "Whenever wholesale sales reps were having a bad week, they'd always say 'We'll go to Seppo's' because he'd always give them an order for something."
"Bob had been sick for a while. Then he had a heart attack on Tuesday." (13th October)
Bob is survived by his wife Val, sons Stewart, Andrew and John and daughters Joanne and Lyn, along with grandchildren and great-grandchildren.
Source: www.bicyclingtrade.com.au
---
Don Andrews (1951) – Visionary of the Royan Group
Truck repairs had always made up a large proportion of the business, but in the early 1970s Ron and Don made the decision to move away from cars and specialise in this area.
The team at Royans could see an opportunity for improvement in the truck repair process, and soon they were repairing trucks in a few weeks, at a time when their competitors would sometimes take six months to a year. So their reputation grew and the business flourished.
Royans began to outgrow the Victoria Rd site which had by now expanded to include a spare parts and accessories store, so Don and Ron bought a property (nicknamed the 'igloo building') on Parramatta Road, Granville in 1971, as well as another site across the road five years later to serve as the head administration office. This large, modern site was fitted out with the latest tools and equipment, allowing Royans to service even more customers. The team regularly faced a line of five more trucks needing to be repaired each morning.
By the early 1980s the company had expanded further and was ready to open other branches. During the 1980s, the old Victoria Road and Parramatta Rd properties were sold, with new sites in Yenora and later the current Chipping Norton site giving plenty of room for further growth.
Around this time, the third generation of the Royan and Andrews families was starting to enter the business. Ron's son Peter began his mechanical apprenticeship in 1976, and Don's son Gary joined the business in 1980 after finishing his accounting degree.