---
1926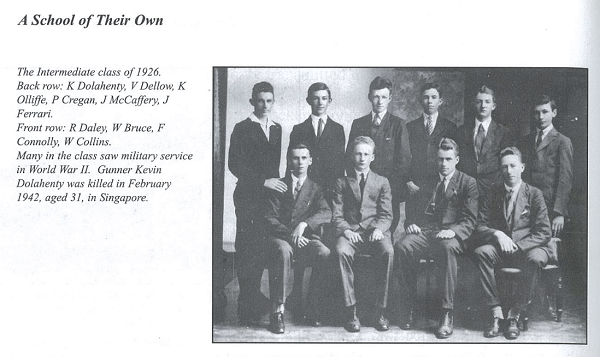 The Intermediate Class of 1926 – which included Kevin Dolahenty. Read more about Kevin here
1935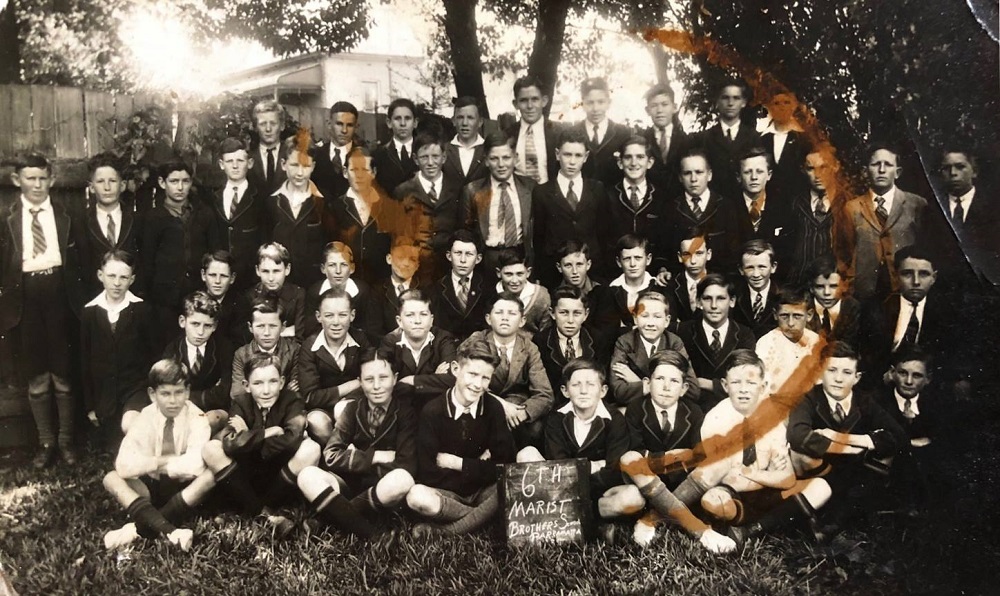 Thank you to John McInerny from the Class of 1951 for supplying this photo to the Old Boys Union.
1941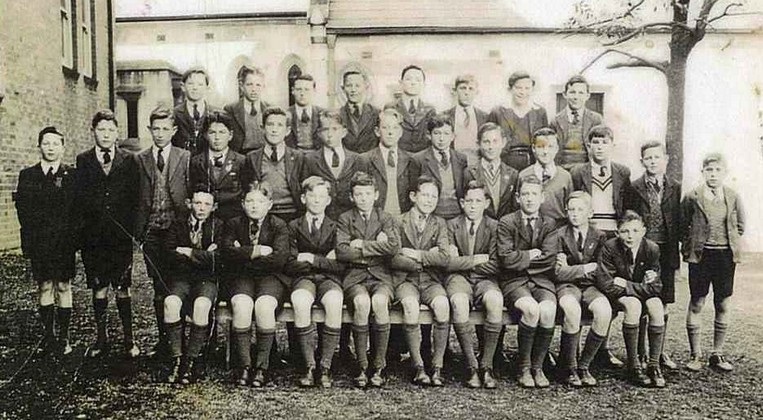 1945
1953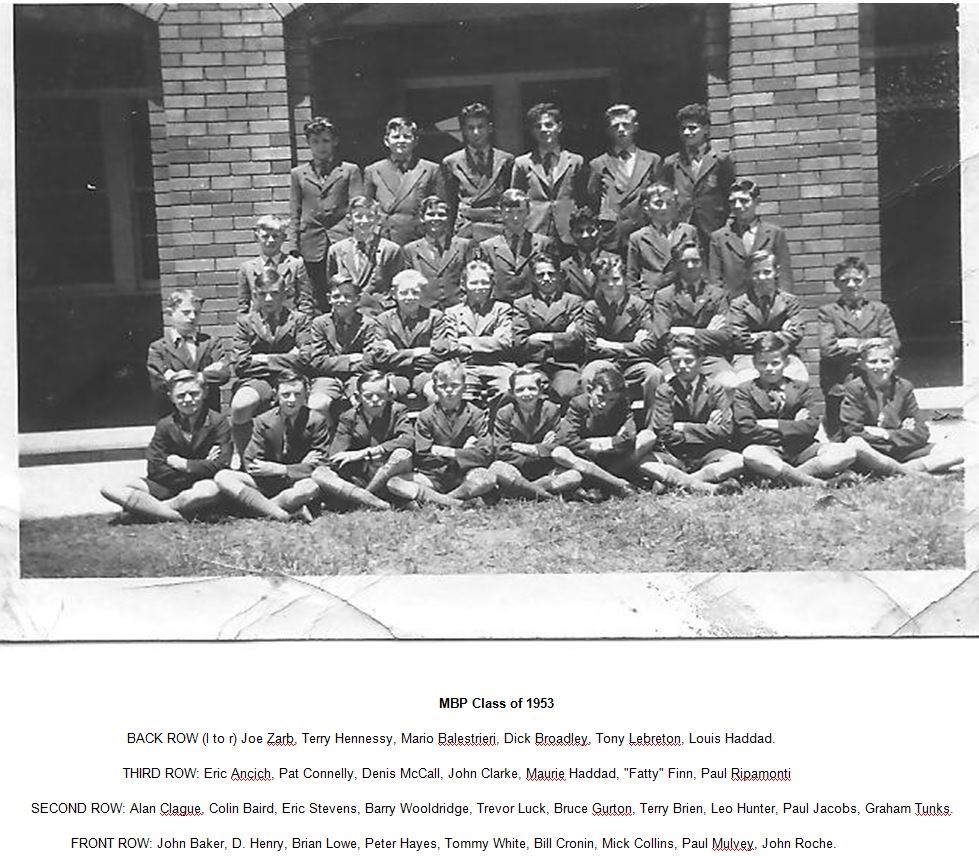 ---
1957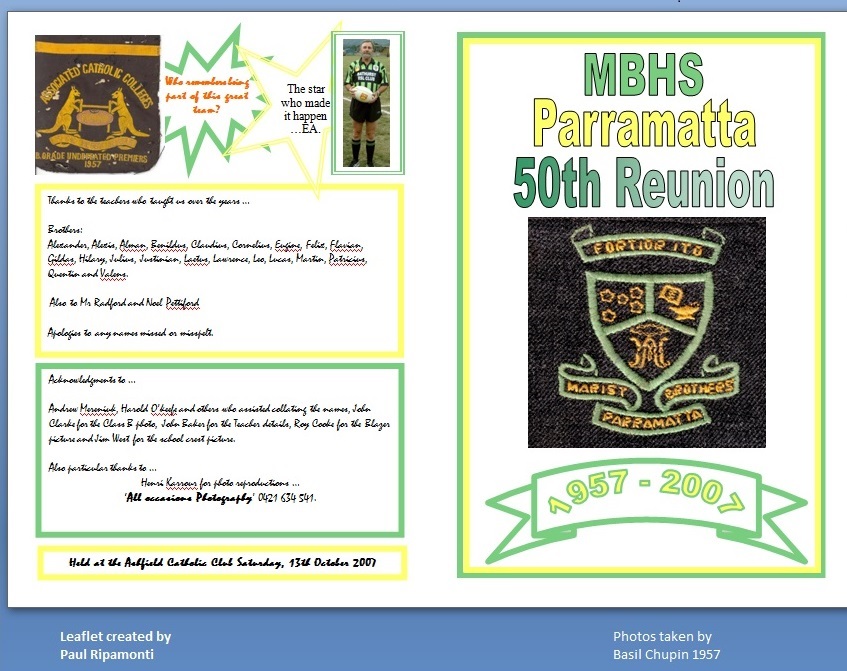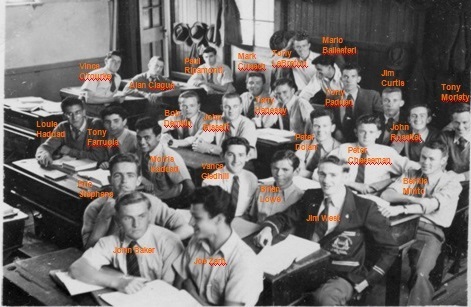 Revisiting 50th Reunion of the Class of 57 –
This post has been a collaborative effort from the MBP class of 1957. Thanks to Andrew Mereniuk for submitting the material.
Before the event, the two class photos taken by Basil Chupin, a keen photographer back in 57, evoked intense email discussion regarding the identity of the then students. John Clarke revealed his memory skills by identifying over 75% of them.
However, we were unable to identify four students from B class until Harold O'Keeffe confessed that he had a list which he had compiled during one History class lesson back in 57. Remarkably he had kept that list over the ensuing years and from that list the remainder of the students were identified.
Class 57 year was in a unique situation in that in the 50s there was no provision for class photos. We were very fortunate to have had those photos taken, though Brother Patricius was not pleased when he walked in on one of these photographic sessions. We were also fortunate that some of the members had kept those photos and were able to submit them to Paul to incorporate in the pamphlet.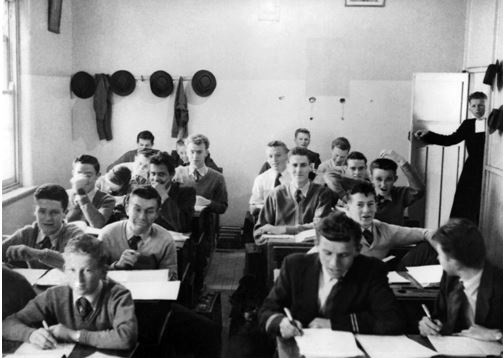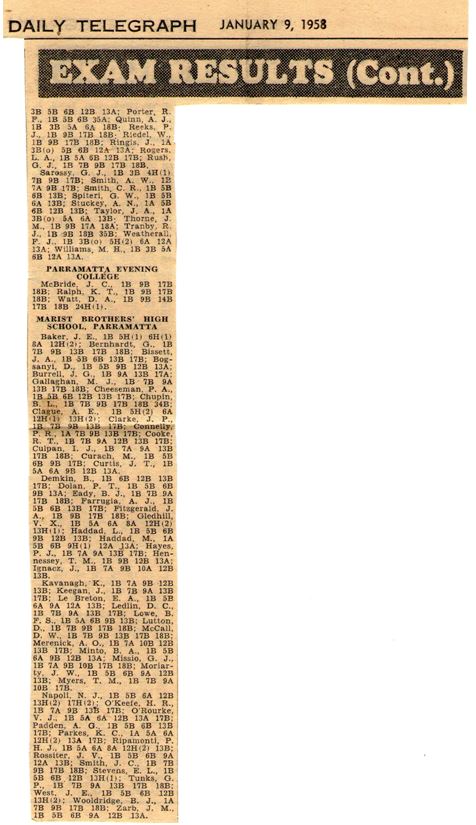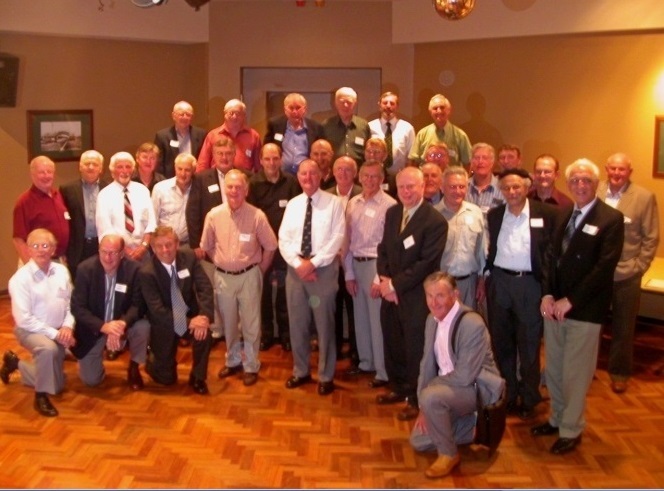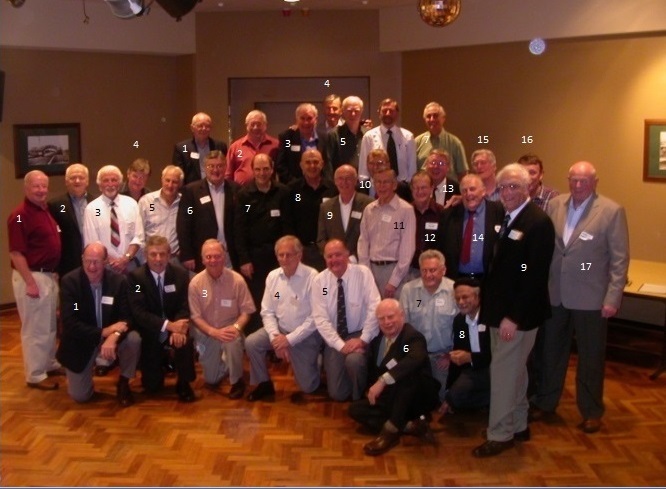 Back Row: 1 Jim Smith 2 Des Ledlin 3 Walter Wall 4 Vance Gledhill 5 Tony Lebreton 6 Eric Ancich 7 Tony Farrugia
Middle Row: 1 Trevor Myers 2 Mark Curach 3 Denis Lutton 4 Roy Cooke 5 Giulio Missio 6 Harold O'Keeffe 7 Paul Ripamonti 8 Joe Zarb 9 John
Clarke 10 Gerry Bernhardt 11 Brian Lowe 12 Kevin Parkes 13 Barry Wooldridge 14 Michael Callaghan 15 Pat Connelly 16 Jim Curtis 17 Peter
Cheesman
Front Row: 1 Jim West 2 Joe Ignacz 3 Peter Hayes 4 Graham Tunks 5 John Rossiter 6 Alan Clague 7 John Baker 8 Louis Haddad 9 Nick Napoli
Thanks to Eric Ancich's initiative and determination The MBHS Parramatta 50th year Reunion for the class of 57 was held at Ashfield Catholic Club Saturday,13th October 2007. Initially he approached the school to get the 57 class roll but the request was declined citing privacy matters.
Fortunately John Baker had kept the LC results for 57 that had been printed in the Daily Telegraph and this enabled Eric to determine the second initial of everyone's name. Armed with this information, he was able to track down 56 former students out of 68, a remarkable achievement. He also took on the responsibility of selecting an appropriate venue. Some of the students had not finished their studies at MBP in 57 but had been included as they had attended MBP in the 50s.
With Paul Ripamonti's photographic skill, a small pamphlet was printed and distributed as part of the memorabilia to all attending and to those who were unable to make it. Photos provided by Kevin Parkes and Joe Zarb.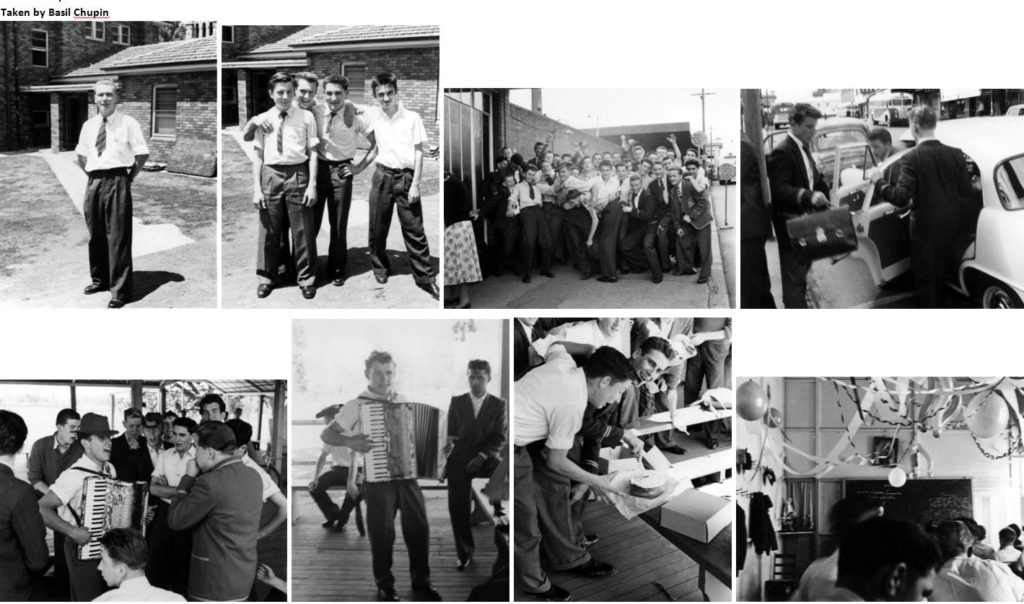 ---
1958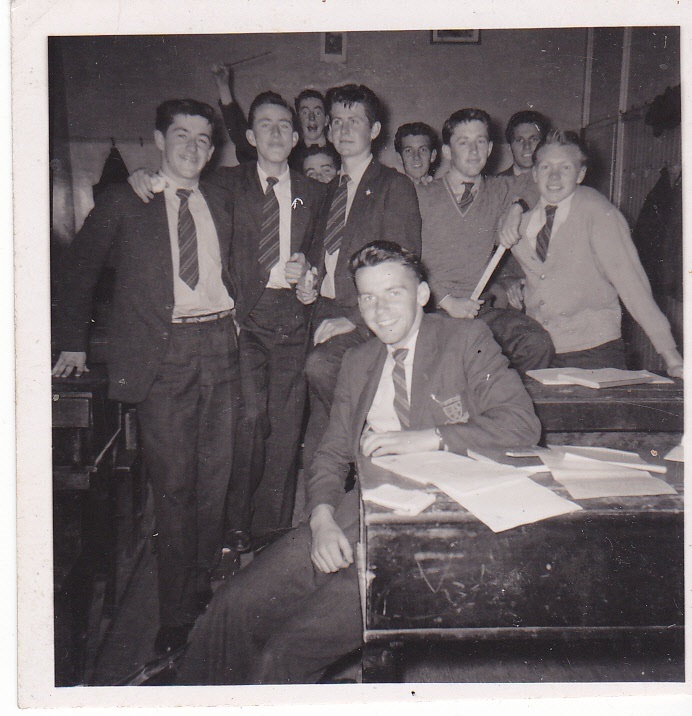 Leaving Certificate B class 1958 –
Thanks to Brian Burfitt (1958) Leaving Certificate B class. Brian Burfitt far left front. Others are Michael McDonnell (second from left) and Anthony Den (second from right), "Third from left rear is Noel Davis (waving the ruler!) .. Noel later joined the Marist Brothers I'm told" The names of the others escaped Brian at the moment. Any takers?
---
1961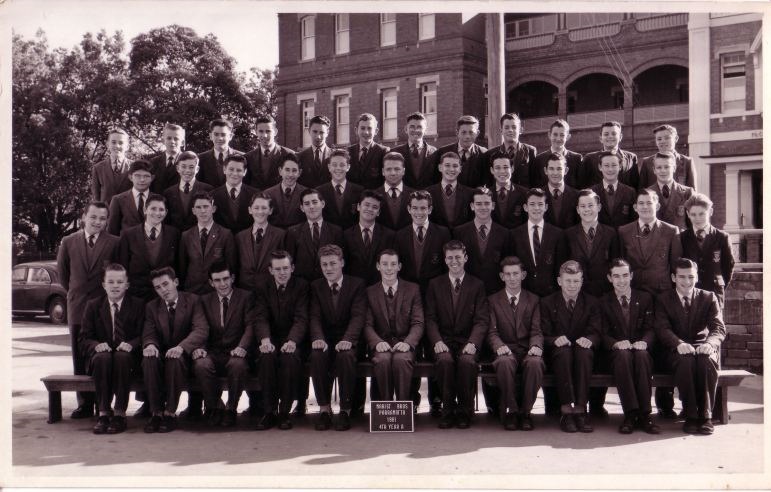 These linked photos and the following email were sent in by an old boy, Mr. Robert Klein-Schiphorst, from the class of 1962. If anyone can identify the students in the photos that would be greatly appreciated:
"My name is Robert Klein-Schiphorst and reside in Townsville, North Queensland having done so since 1968. I am an ex student of Marist Brothers Parramatta High School from mid 1958 through to 1962 completing 5th Year, Leaving Certificate ( year 12 today). Recently whilst browsing through our photo albums with grandchildren came across two old School photographs. Copies of which are attached. One was taken in 1960 third year school cadets at a school cadet camp in Singleton, what I can remember of it, it was bitterly cold but a lot of fun. I am on the left hand end of the four shown but can't place a name to the familiar faces of the others to the right. The other is a class photograph taken in 1961 of Fourth Year A . Most of the faces are familiar but can only put a name to a couple for certain, think I know who the two are seated in the first bottom Row in the middle but not sure. It would be nice if somebody could ID them all and put their photo on the old boys web site. All those shown went onto 5thYear ( Year 12 ) completing same at the end of 1962.
Fifth Year Photograph 1962:
John Ripamonti …..Seated Front Row (1st row ) Right hand End
Edward Lewindoski…Standing second row Fifth from Left hand End
Robert Klein-Schiphorst.. Standing second row Forth from Right hand End
Cheers,
Robert Klein-Schiphorst ….Class 1962
Can anyone help Mr. Klein-Schiphorst identify the MBP old boys in the photo? If you can, please feel free to him at the email address above. Thanks.
Thanks to Mr. Peter O'Connor (MBP 1959 to 1964) for helping Mr. Klein-Schiphorst by emailing him 3 scanned photos from the 1962 yearbook!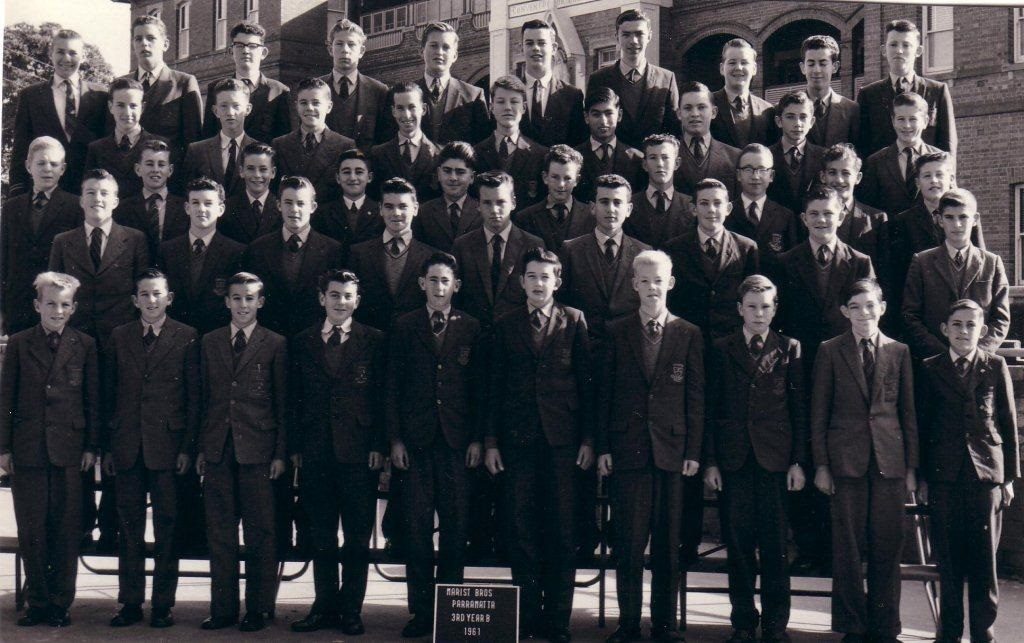 The names so far:
Top: ? ? ? Hayes, ? ? Fabro,
4th Row: Robertson, Rogers, ? Prudane? ? ? Modjeleski? ? ?
3rd Row: ? McLeod, Curi? ? Simmons? ? Vougeleski? Braniac? ?
2nd Row: ? Walker? Duggan, Handcock, ? ? ? King? ?
Front Row: Clifford, ? ? ? King, ? Barsolar? Money, ? Dellow
Paul Hyman
Re: 1961 3rd year B class – I remember this photo also. I am on the 4th row, 5th from the left. My brothers Chris and Roger Hyman alerted me to the photo. I had forgotten all about it. I recognize a lot of the faces but have forgotten names.
Regards, Paul Hyman
---
1962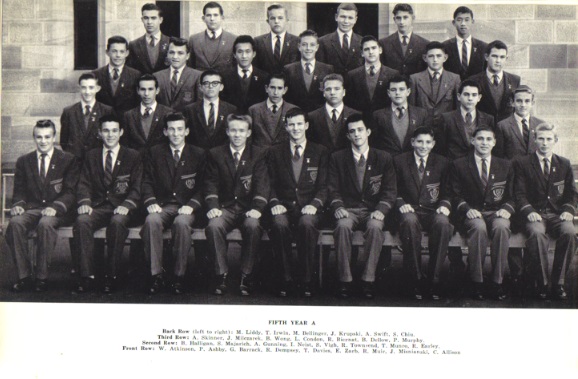 See the comments above (1961) regarding the names of those shown.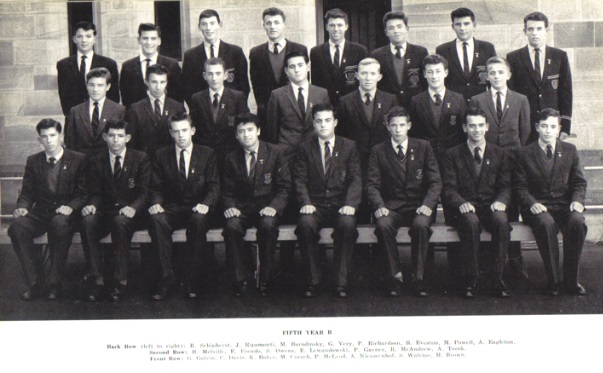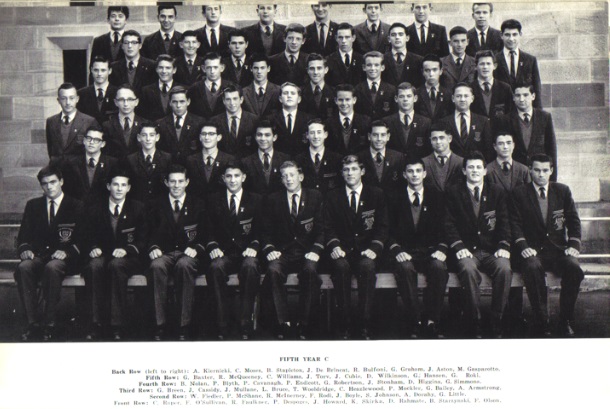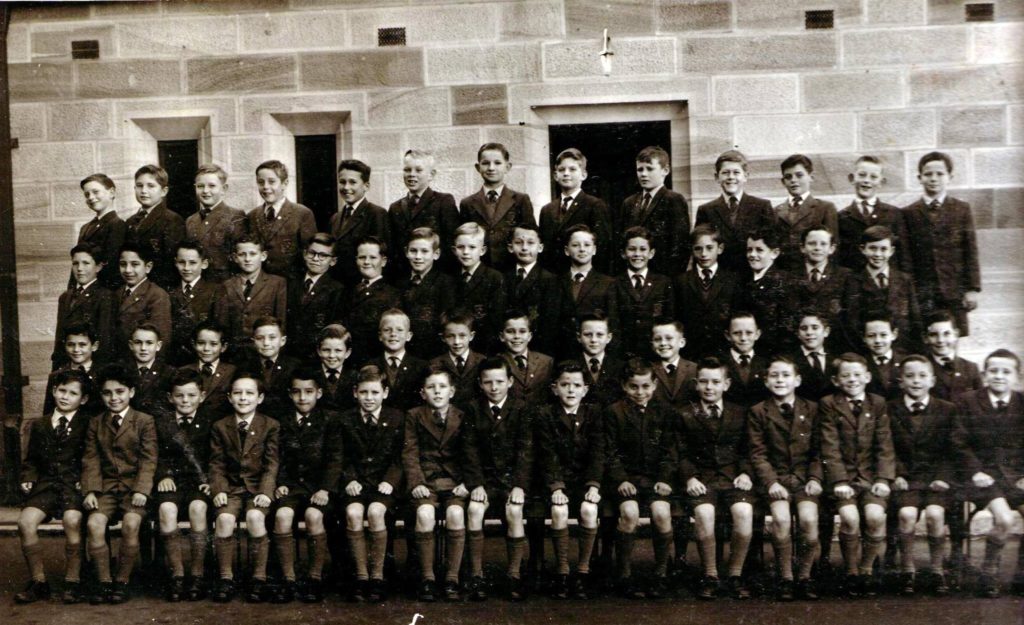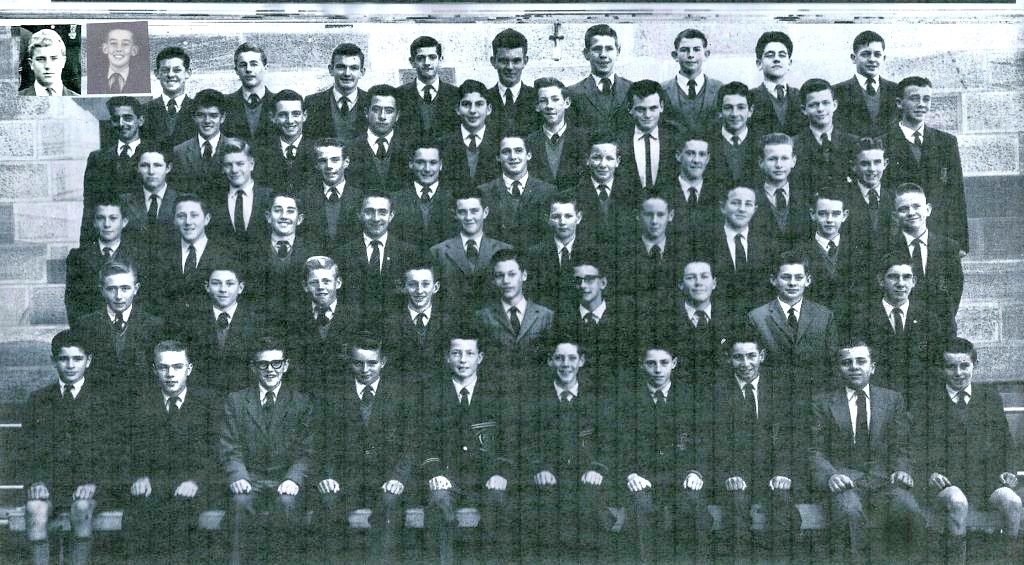 Back row: D Bishop, D Bradshaw, K Kavanagh, R Dick, W Robertson, G Doyle, A Cheeseman, R Murphy, P Cavanagh.
5th row: K Abraham, G Miller, P Murnane, J Granata, G Malouf, D Wilson, J Knight, I McAndrew, M Farrall, A Smith.
4th row: J Koen, T Goodacre, D Armstrong, C McCarthy, W van Megen, G Catt, K Morton, A Urbanek, D Liddy.
3rd row: J Wood, N Sutton, R Hartog, H Szafraniec, P Walters, P Burns, M King, J Gorman, E McFadyen, A Cranney.
2nd row: P Kerr, W Miahkyj, D Winnin, P Costello, R Gallop, M Halbert, C Jurd, M Horth, R Mason.
Front row: P Munro, J Lamerton, C Atkinson, J McMullen, W Allison, G Sims, P Dorahy, D Luckman, J O'Keefe, J Brogan.
Inset l-r: D McFadden, S Bishop.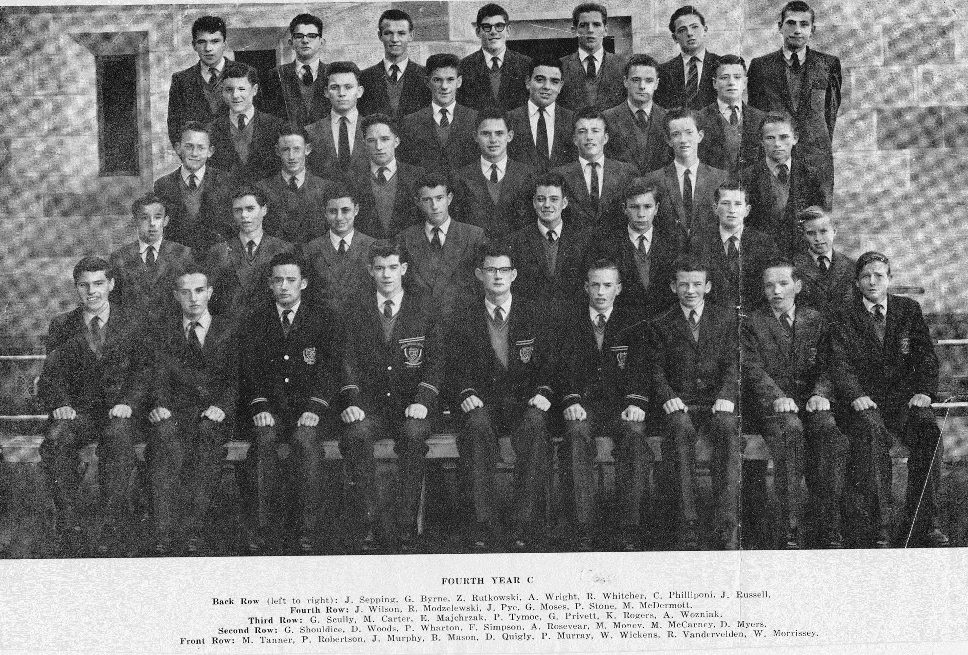 ---
1963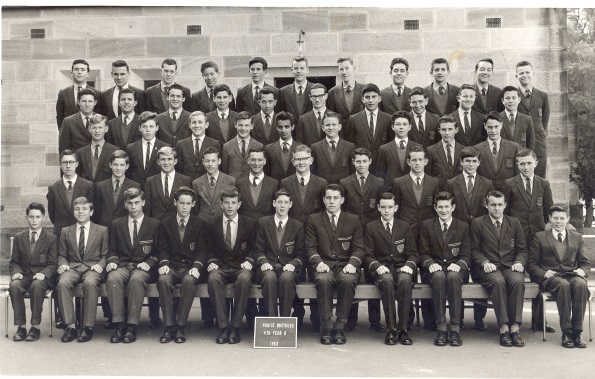 Back Row: Arch DeAngelis, Geoff Stralow, John Haydon, ????? Byrnes, Michael James Pettett, Geoffrey Laing (Deceased), David William Wilson, Robert Murphy, Stephen Hills (was
Hegedues), Otik Uhlik, Michael Farrall
4th Row: James Koen, Nicholas Danos, Bill Van Megan, Benon Mende (Deceased), John Granata, Dennis Hodgson, Graham Malouf, Ian McAndrew, John Gorman, John Wood*
3rd Row: Anthony Urbanek, Hermes Cibej, Victor Sutherland, Michael Ryan, Ken Abraham, Anthony Cranney*, Bill Miahkyj, David Liddy, Frank Nowak
2nd Row: Phillip J Preston* , Pat Mockler, Robert Connors, Robert Gallop*, Chris McCarthy, Gregg Corr, ????? Dorahy, Wayne Tubb, Saul Munro, Peter Kerr ????
Front Row: Alan Kirkman, JB O'Keefe, John Gostynski*, Mick King*, Dennis Cooper, Geoff Sims,Paul Madziar, Ted McFadyen, Paul Ferguson, Mick Tolar, Terry A Owen
* Left MBP before Leaving Certificate
Back Row: Chris Atkinson, Peter Ettinghausen*, Wayne Robertson, Tony Dwyer, Bill Allison, David McFadden, John Brogan
3rd Row: Denis Normoyle, Ron Mason. Laurence DeGiorgio*, Michael Edgerton, Lester D'ombrain, Ian McCann, Mick Csapo*
2nd Row: Neville Cameron, Phillip Burns*, Stuart Burnett*, Peter Costello, Kim Clare, Greg Dunford*, Pat Cavanagh, Mick Bruhwiller
Front Row: John A Jacobs, Robert Edmonds*, John M Collins, Antony Cheeseman, Unknown, Greg Doyle, Gary J Parkes, Ron Dick, Chris Jurd
Possible Absentees: Tony Barone, Terry Wilkins, Garry Miller (Deceased)
* Left MBP before Leaving Certificate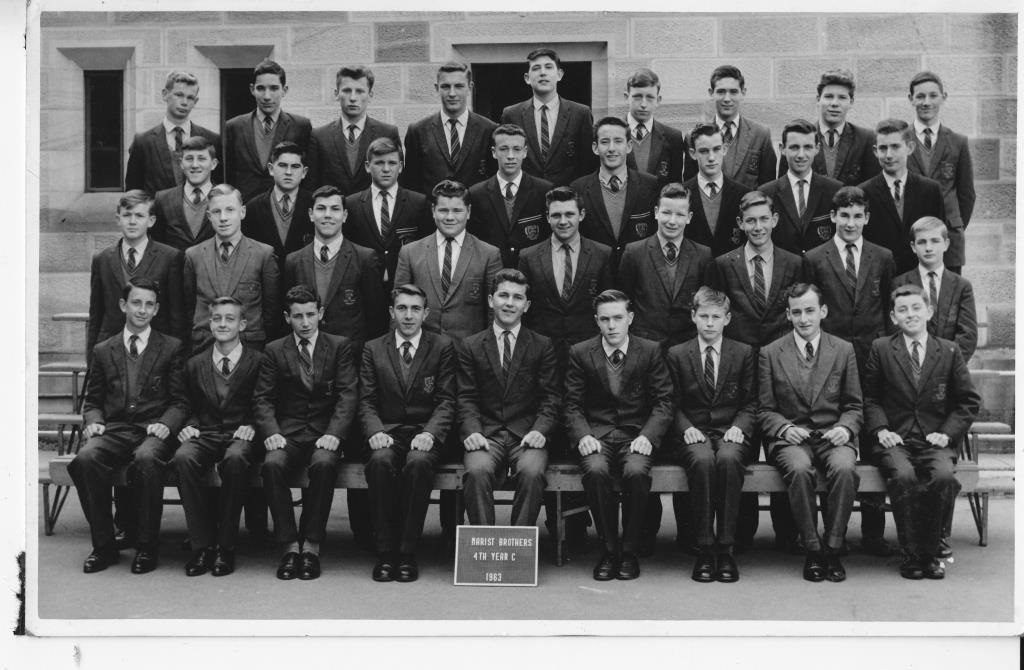 Back Row: Mark Sanders, Graham Hazlett*, Keith Wager, Unknown, Stephen Carter, John Goldsmith*, Ronald (John) Williams, Andre Przybylski (Deceased), Unknown
3rd Row: Noel Sutton, Paul Hill (Deceased), Ron Horne, Tony Smith, Dan Riley, John O'Connor, Paul Murnane, Alan (was Kerry) Niass
2nd Row: John Peters, Charles Ferrero, Michael McMahon, Stu Priestly (Deceased), G Catt*, Ron Miles, Tom Sherley, Kevin Ricketts
Front Row: Mick Halbert, John Odewhan, Doug Luckman, Henry Szafraniec, Chris Piorkowski (Deceased), John Lamerton (Deceased), John Kelso, Doug Fraser, Chris Grounds,
Possible Absentees: Doug Woods (Deceased), John G Hall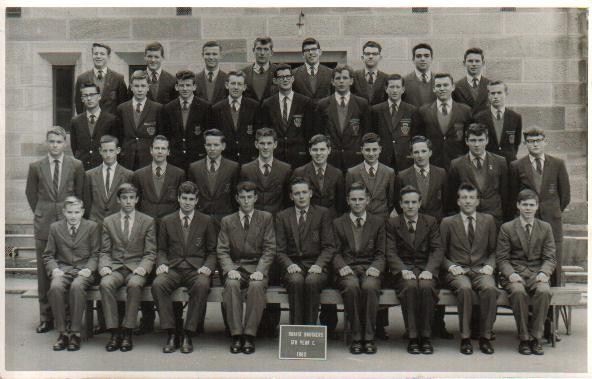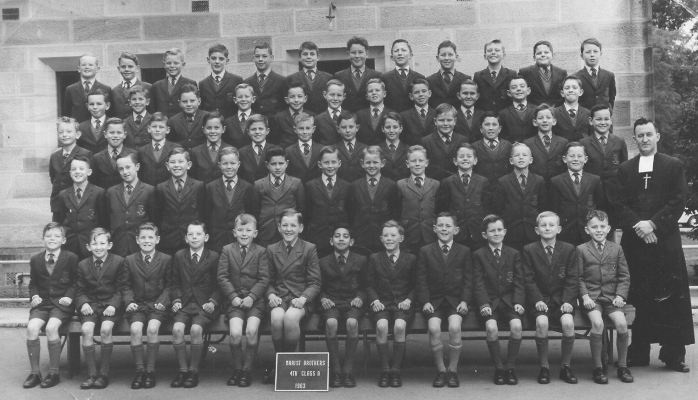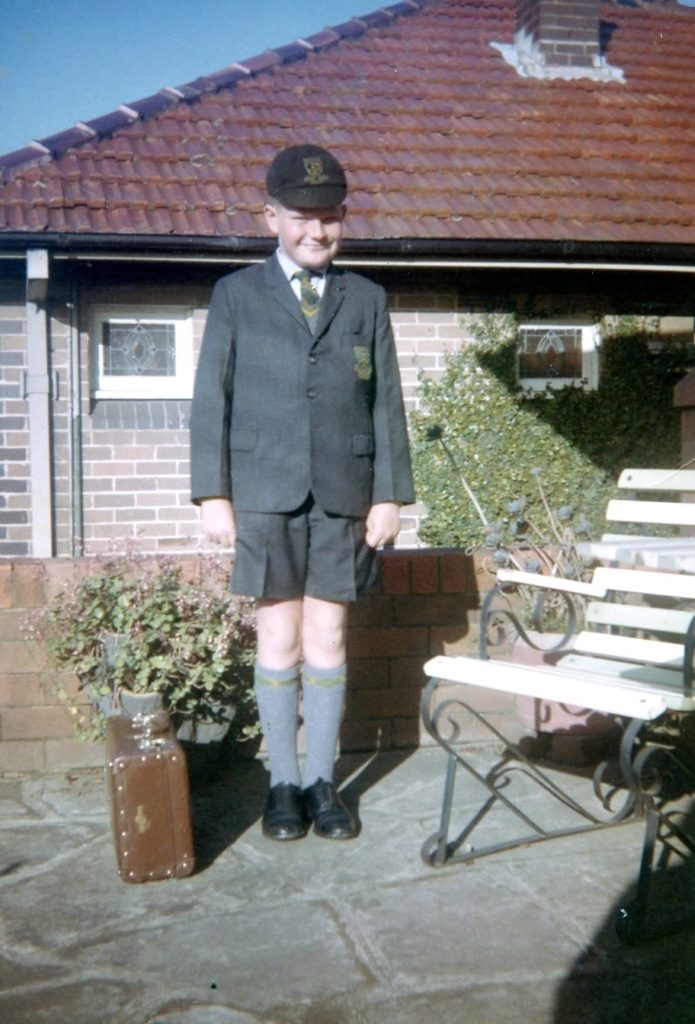 ---
1964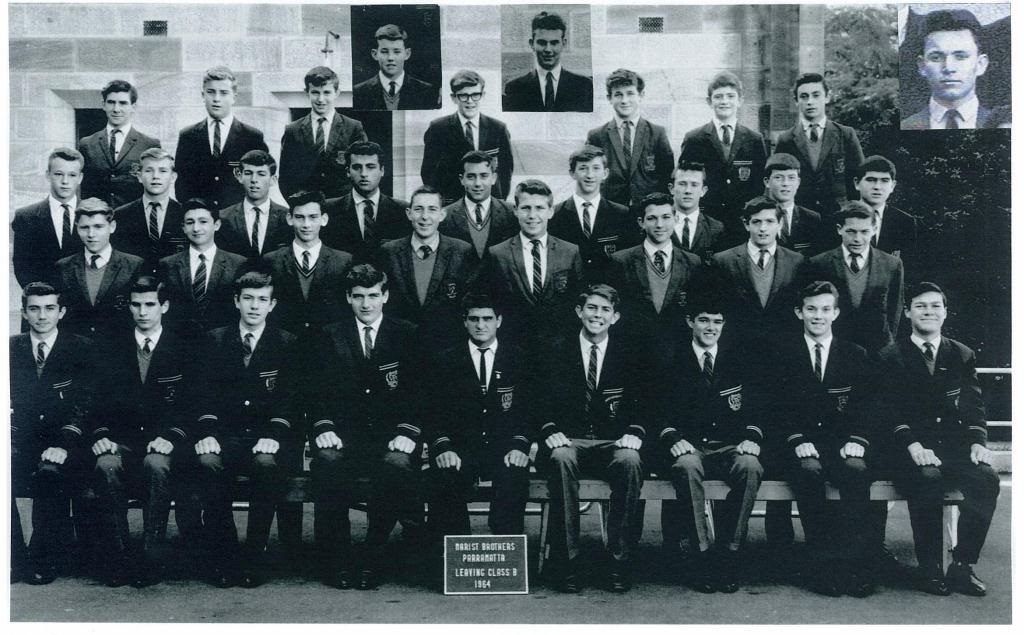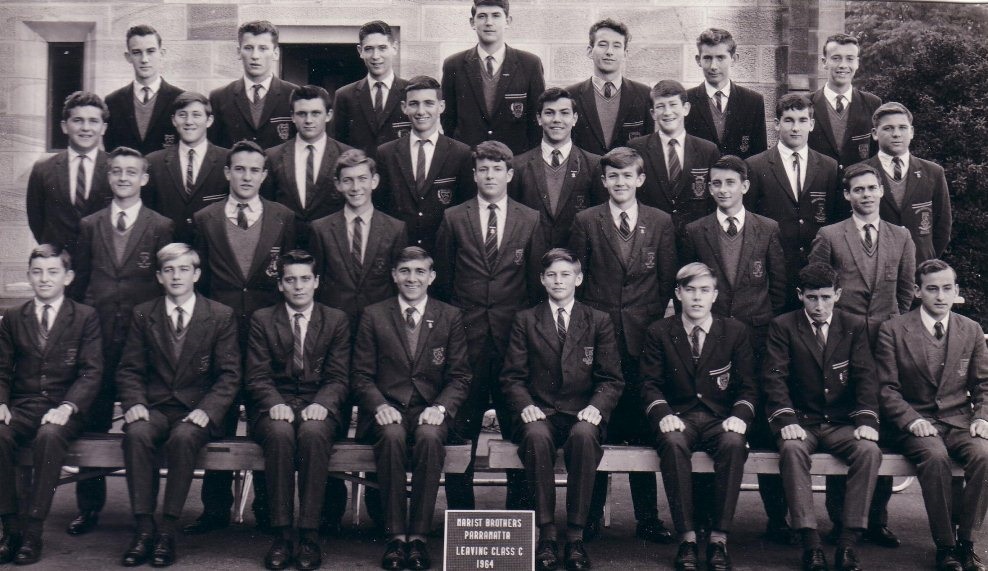 Back Row: J O'Connor , K Wager, J Williams, S Carter, D Riley , K Niass, A Smith
3rd Row: C Piorkowski , N Sutton, Mertens , P Murnane, C Ferraro, M McCarney, T Sherley , R Horne.
2nd Row: J Odewahn, P Robertson, R Miles, M McDermott, J Peters ,M Halbert, D Woods
Front Row: C Grounds, K Ricketts, J Hall, Unknown , J Kelso , J Lamerton, D Luckman, D Fraser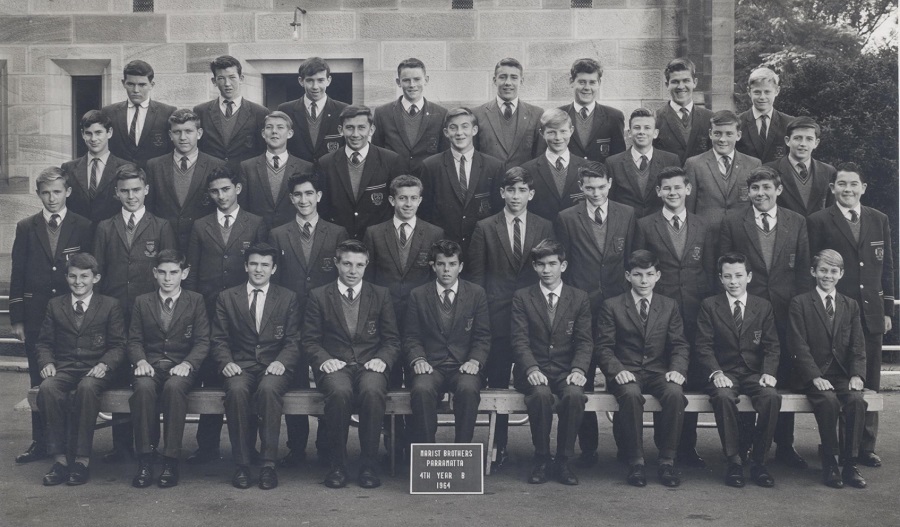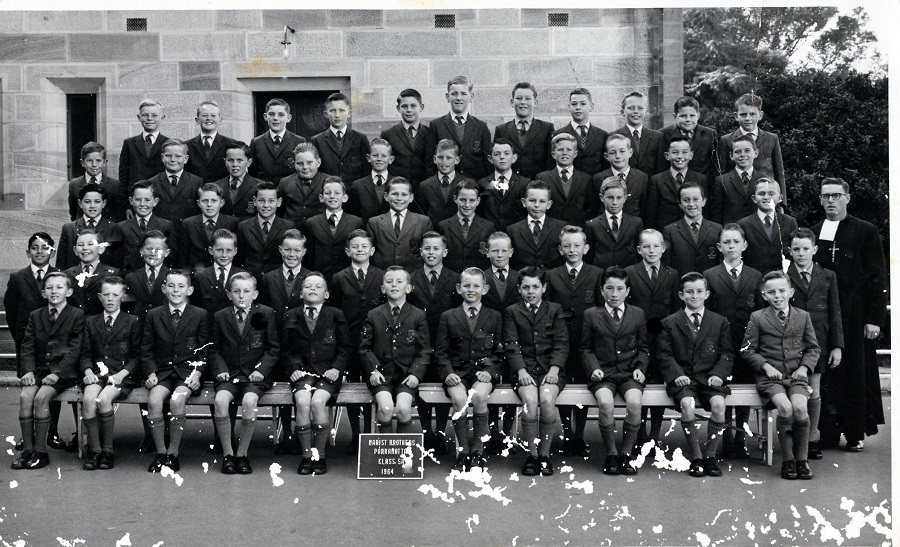 ---
1965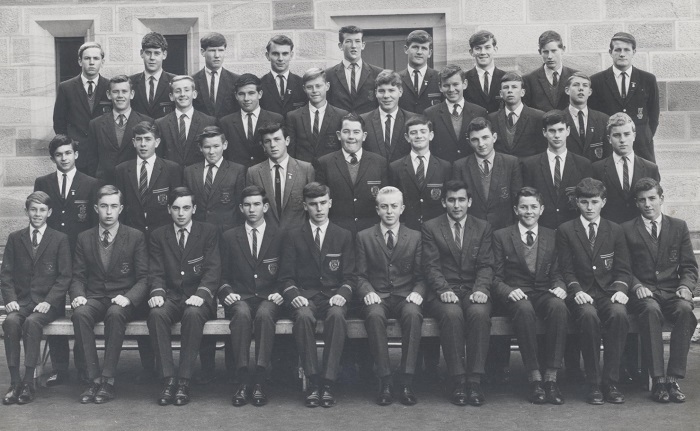 1965 Leaving Certificate Class C. Left to right starting at back: Alan O'Leary, Peter Barnes,Ray Fazzolari, Peter Gudgeon,Terry Cliff, John Millers,Paul Baradinsky, Chris Trew,Peter Ryan, Ron Howe,Bob Ogle, Peter Steele, Michael Brogan, John Flynn,David Baron, Michael Price Thanks to Peter Buckley & John Flynn.
---