Editorial Note
The Old Boys Union abhors any form of child abuse and wants to see justice done for victims and the conviction and punishment of perpetrators. This will also serve to free the reputations of those good brothers and their good works that have been smeared by the selfish acts of predators.
If anyone has any complaints or information in respect of any abuse they should provide the information to the police without delay.
Some of the images on this website that include images of known perpetrators have been blurred. This is not an attempt to rewrite history but a gesture to show respect and empathy for the victims and their families.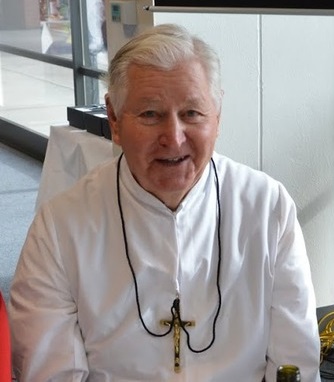 Br Jerome (Noel Hickey) 1944-47
Dear Secretary,
As Br Jerome I taught at the Victoria Rd campus from mid-1944 to Dec 1947. Among the students in Grade 5A in 1947, John Devitt was one of the 75. Does John have an email address for me to contact him? I am in Churchlands WA, still doing an hour or so a week with special needs students in Newman College where two other Brothers are full-time.
Br Noel Hickey (2010)
From the 1950 Year Book – Staff –
Thanks to Chris Jurd who provided this and other images. This image is of the teaching staff of 1950. In those days lay staff, as they were known were the exception, rather than the rule.
Editorial Note
The image of the teaching staff includes Brother Norbert Mathieson who was also the commanding officer of the School Cadets at that time. There have been allegations that Brother Norbert was a pedophile however never charged. He died in 1954. A Google search will provide links to these allegations. There have also been allegations that Br Laetus, who also appears in the image, was obsessionally violent. The allegations did not extend to being a pedophile.
The teaching staff prominent in the 50s
Br. Laurence, Maths and Physics, Principal till end of 56
Br. Quentin, Chemistry, Principal in 57 and later appointed Provincial
Br. Alexander, English
Br. Benildus, English and Officer of Cadets at one stage
Br. Cornelius, Geography
Br. Conan, Chemistry
Br. Cornelius, Geography
Br. Ethelred, English and had a red setter dog;
Br. Gildas, Maths;
Br. Pascal, Maths;
Br. Eugene, Latin
Br. Julius, Maths and Physics
Br. Martin, Chemistry
Br. Valens, Religion;
Br. Felix, Physics;
Br. Justinian, French;
Br. Patricius, History – Modern and Ancient
Br. Laetus in charge of cadets and school discipline;
Br. Leo, English, French and Latin
Lay Teachers
Mr Noel Pettiford, Junior Maths (continued to teach at the School until his passing in 1975)
Mr Reg Radford, Elocution
Bother Coman "Coey" Sykes
Brother Coman Sykes, 'Coey' to many, passed away peacefully in his sleep in the evening of 19th September 2013. We have lost a terrific, industrious, honest and caring man in Coey. Rest in Peace Brother.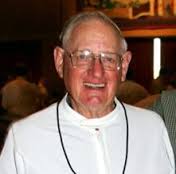 In May 2013  "Coey", was admitted to Campbelltown Hospital with some serious health complications. His heart and lungs were not functioning correctly and other bodily systems seem to be failing. The Lord had some more for Brother Coman to do because Coey was able to return to St Gregory's College Campbelltown, where he had been spending his retirement.
You may recall the scholarships funded by the Old Boys Union are named in honour of Brother Coman.
Brother Coman worked at Westmead for 20 years of his Marist life, St Vincent's Westmead Boys Home (1949-1956), Community Superior (1973) and the secondary school (1984-1995).
Geoffrey Sykes attended St Gregory's College Campbelltown having gone to that school in 1943 (Year 9) from Yass (Currawang – Spring Valley where his family had lived and worked since 1827).  The Marist Brothers made a lasting impression on Geoffrey and he left St Gregory's in 1944 to commence training as a Marist Brother.  He was professed as Brother Coman in 1948 and after 12 months scholasticate began his apostolic work at St Vincents. He was the principal at St Gregory's (1957 – 1962) and Marist North Shore before moving into formation. Forever a humble man he had a lasting impact on many lives as evidenced by the recognition he received in having a wing of Marist College North Shore named after him.
During his years at Parramatta Marist High he was the Year 11 co-ordinator and sports coach. His work in maintaining the school bus fleet, the fields and school buildings are legendary. Brother Coman retired to Mittagong in 1995 and later moved to St Gregory's. (Source: McDonald I, A School of Their Own – The Story of Parramatta Marist 1820-2000; 2000; p.353).
Coey was also a keen genealogist having authored 'The History of the Sykes Family in Australia' originally produced for the Spring Valley Reunion of 1971 and maintained a website by the same name http://www.sykesfamily.com.au/index.htm  .
Br Coman was most committed to living out the ideals and the vision of Marcellin Champagnat. He was a generous man, with a ready smile and a warm hello for everyone. For he lived out the Marist virtues of humility, simplicity and virtue and his example will be sadly missed in this world.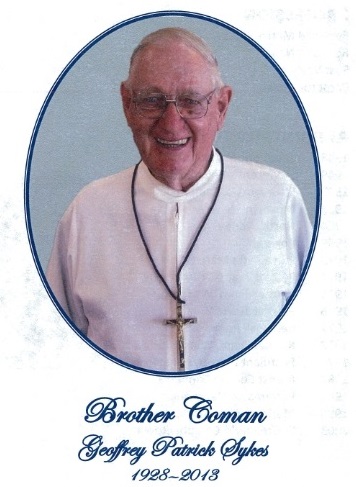 Cover – 
Booklet from the Requiem Mass for "Coey" Brother Coman Sykes held 25 September 2013 
Br Patrick Howlett, Principal – 2017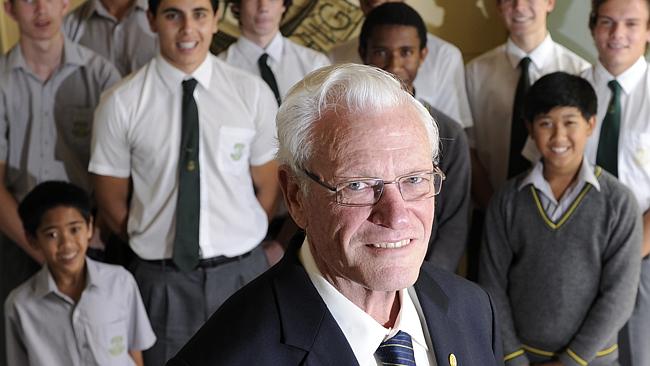 Br Patrick Howlett – Champion of West –
Parramatta Marist High School Principal, Br Patrick Howlett, was the first among six well-known and respected people to be honoured as a Champion of the West on 4 April 2014 at the annual Celebrate the West event at Sydney Olympic Park.
Other honourees included Noelene Brown (actress), John McLean, (paralympian), Hazem El Masri (former Canterbury Bulldog), John Fahey, (former NSW Premier) and Peter Mattick (Co-founder of Salmat).
Hosted by actor Bryan Brown, at a lunch for the San Miguel Family Centre, Br Patrick was honoured for his work as a passionate educator. Presented with his award by nominator Bishop Kevin Manning, Bishop Emeritus of Parramatta, Br Patrick said he felt honoured.
'It is a privilege to be honoured in the company of people who have contributed much to Western Sydney,' said Br Patrick. 'There is a lot of talent in the west and it needs to be fostered.'
'I tell my boys you can do well and you will do well. The question we need to ask is not 'how smart are you'? Instead we need to ask 'how are you smart'? Because everyone is smart in some way or another and our challenge is to make education relevant to young people,' he said.
Throughout his long teaching career spanning 45 years, Br Patrick has always looked for the most effective ways for students to learn.
After two years of research, Br Patrick introduced a revolutionary method of education known as 'project-based learning' (PBL) at Parramatta Marist. This has become the crowning achievement of the latter part of his time as an educational leader. He has been recognised nationally and internationally for his achievements with this 21st century method of learning and teaching which uses engaging, rigorous, student-centred and collaborative strategies for ensuring learning is relevant, engaging and successful.
Brother Patrick has been a Marist Brother for 54 years and he is still actively engaged in the work that has occupied his whole professional life – that of secondary school education.
In addition to the Champion of the West award, in 2012, Br Patrick was awarded the Croce Pro Ecclesia et Pontifice by the Holy Father, Pope Benedict XVI, which is the highest recognition awarded by the Pope to a member of religious order for his services to Catholic Education.
He was also awarded the 2008 Parramatta Catholic Education Staff Recognition Award for Innovation in Learning and Teaching.
The Champions of the West event is an annual fundraising occasion for the San Miguel Family Centre operated by Boystown.
Mr Norm Dagher 1980 – 2015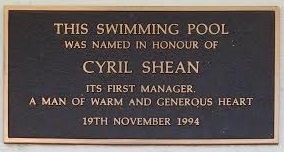 As the Cyril Shean School Pool was decommissioned in 2015 we learnt that Cyril Shean passed away 28 October 2015. Cyril was an Old Boy and resident of St Vincents. Cyril continuously tended the school pool (which was named in his honour) for 32 years until his retirement in 2000. He also managed a number of the School's rugby league teams over the years. He was a man of warm and generous heart – may he rest in peace.
This sad irony reminds us that physical structures may come and go but the positive impact of generous service to others will outlive physical structures and extend well beyond the the boundaries of the structure.