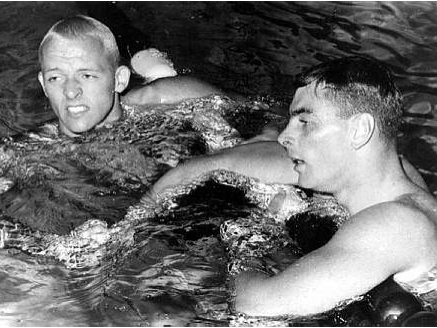 John Devitt – Medal Winning Olympian –
(pictured right), was one of our finest Athletes. He swam at both the Melbourne (1956) and Rome (1960) Olympics and his personal medal tally was 2 Gold, 1 Silver and 1 Bronze. He also held a number of world records. For more information CLICK HERE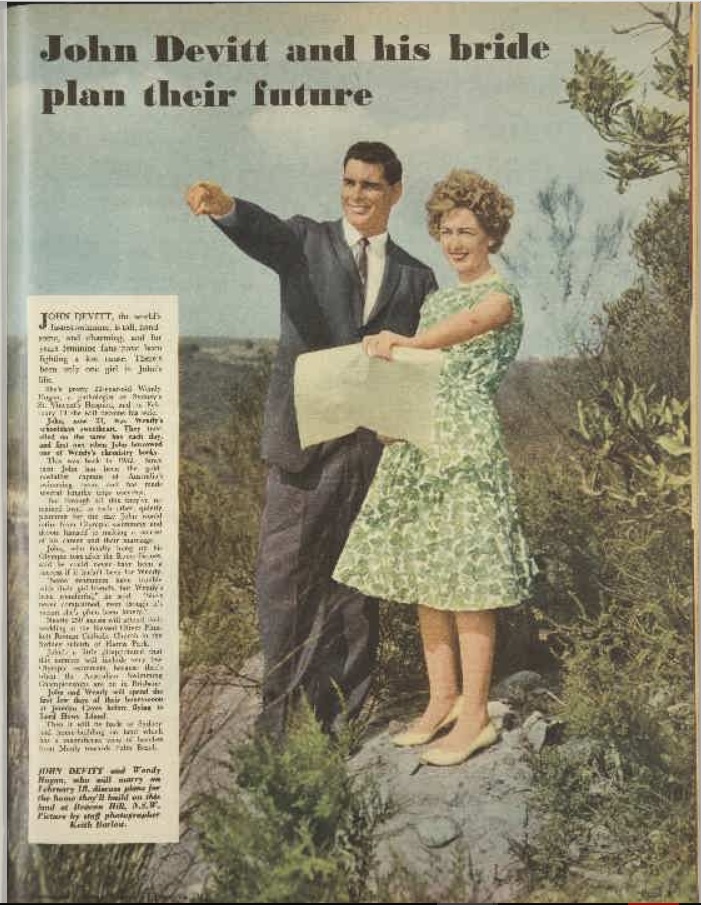 The Australian Women's Weekly Wed 22 Feb 1961 Page 3
"JOHN DEVITT, the world's fastest swimmer, is tall, handsome, and charming, and for years feminine fans have been fighting a lost cause. There's been only one girl in John's life. She's pretty 22-year-old Wendy Hogan, a pathologist at Sydney's St. Vincent's Hospital, and on February 18 she will become his wife.
John, now 23, was Wendy's schooldays sweetheart. They travelled on the same bus each day, and first met when John borrowed one of Wendy's chemistry books.
this was back in 1952. Since then John has been the gold
medallist captain of Australia's swimming team, and has made several lengthy trips overseas. But through all this they've  remained loyal to each other, quietly planning for the day John would retire from Olympic swimming and devote himself to making a success of his career and their marriage. John, who finally hung up his Olympic togs after the Rome Games, said he could never have been a
success if it hadn't been for Wendy. "Some swimmers have trouble with their girl-friends, but Wendy's
been wonderful," he said. "She's never complained, even though it's meant she's often been lonely."Nearly 250 guests will attend their wedding at the Blessed Oliver Plunkett Roman Catholic Church in the Sydney suburb of Harris Park. John's a little disappointed that this number will include very few Olympic swimmers, because that's when the Australian Swimming Championships are on in Brisbane. John and Wendy will spend the first few days of their honeymoon at Jenolan Caves before flying to Lord Howe Island. Then it will be back to Sydney and home-building on land which has a magnificent view of beaches
from Manly towards Palm Beach. JOHN DEVITT and Wendy Hogan, who will marry on February 18, discuss plans for the home they'll build on this land at Beacon Hill, N.S.W. Picture by staff photographer Keith Barlow.
When John Devitt won Olympic 100-metre freestyle gold in 1960, his inspiration was Healy. He always wanted to write his hero's biography. Now, on the centenary of Healy's death, Devitt has joined with Larry Writer to produce an extraordinary tale of a man who was born to swim, earned sporting immortality but then sacrificed all. The book recalls Australia's first great era of swimming, our early Olympic achievements and the rise of the surf lifesaving movement. Healy helped organise the visit of Duke Kahanamoku to Australia in the summer of 1914-15, an adventure that inspired generations of board riders.
Three years earlier, at the Stockholm Olympics, he refused to race in the 100 metres final unless the Duke, the race favourite, was also allowed to swim. The great Hawaiian had missed his semi-final, after a misunderstanding over the starting time. Cecil later won gold in the 4x200m freestyle relay, but it was his altruism that earned him a place in sport's highest pantheon. When John Devitt adopted his sporting hero, he could not have chosen a finer man.
John Stephens –
Baseball – 2004 Athens – Silver Medal
Other awards in the United States:
2002 Futures Game All-Star
2002 Orioles Minor Leaguer of the Year
2001 Eastern League Pitcher of the Year