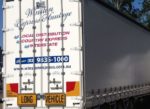 Business Genre or Category
Short Business Description
The company started with one vehicle and has now progressed to a fleet size that numbers some 35 units. Our fleet is made up of company-owned vehicles and a select group of permanent subcontractors.
CLICK OUR BUSINESS NAME FOR MORE DETAILS AND CONTACT FORM
Winston Express Haulage Pty Ltd specialises in local distribution, set runs and country and interstate transport with an emphasis on general and time sensitive freight. We transport for a wide variety of organisations and are proud to include companies such as TNT, Windscreens O'Brien, News Limited, VISY, Pacific Dunlop and Vespol in our customer base.
We place a heavy emphasis on customer service and professionalism. We make our-selves available to our customers 24/7. Our drivers are reliable and conscientious, our vehicles are well maintained with excellent presentation and come fully equipped including "intruck" mobile phones and GPS Satellite Tracking.
Long Business Description
Our fleet varies in size from a two ton Ute, through to six, eight and twelve tonners that are either flat tops or curtainsiders. We can also provide you with a normal semi-trailer service as well as "B" Doubles. All trucks feature "airbag suspension" and four of the curtainsiders are fitted with tailgate loaders.
We have received a "Highly Recommended" classification from the Australian Achiever Awards for 2004, 2005, 2007, 2008, 2009, 2010, 2012 & 2013 and in 2006, 2011 and 2014 we were the winners of the Transport, Delivery and Freight Services Category which relates to Excellence in Customer Service.
When it comes to transport we listen and learn from our customers to ensure we come up with the correct solution for their transport requirements.
We comply with all awards and government legislation in relation to wages, and superannuation. Workers compensation and all relevant insurances are in place. We comply at all times with the "Chain of Responsibility" legislation which protects us and in turn protects our customers and gives them peace of mind knowing they are dealing with a compliant transport operator. Trade References and Certificates of Currency for insurance purposes are readily available for insurance.
Services
Local Hourly Hire
Tail Lift / Tail Gate Service
Country and Interstate
Tow Only / Linehaul Service
Send Message to listing owner