The Cadet Unit began at Parramatta Marist Brothers in 1941. The tradition of Friday afternoon training began that year, as did the annual camp. In September 1941 it was held at Brookvale with the combined cadet corps of all Marist schools. In later years the annual camps were held in Singleton. Camps were also held at Gan Gan Army Camp – Port Stephens (1970s). There were also bivouacs (shorter camps 3 to 4 days) were held at Leppington and Arcadia.
The Unit was opened up to the girls from Catherine McAuley in the 1980s. Later the Unit became a Regional Cadet Unit (204RCU) and later again renamed an Army Cadet Unit (204ACU). On becoming an RCU the Unit moved from being based at Parramatta Marist to Timor Barracks Cnr Kissing Point Rd & Stewart St Dundas NSW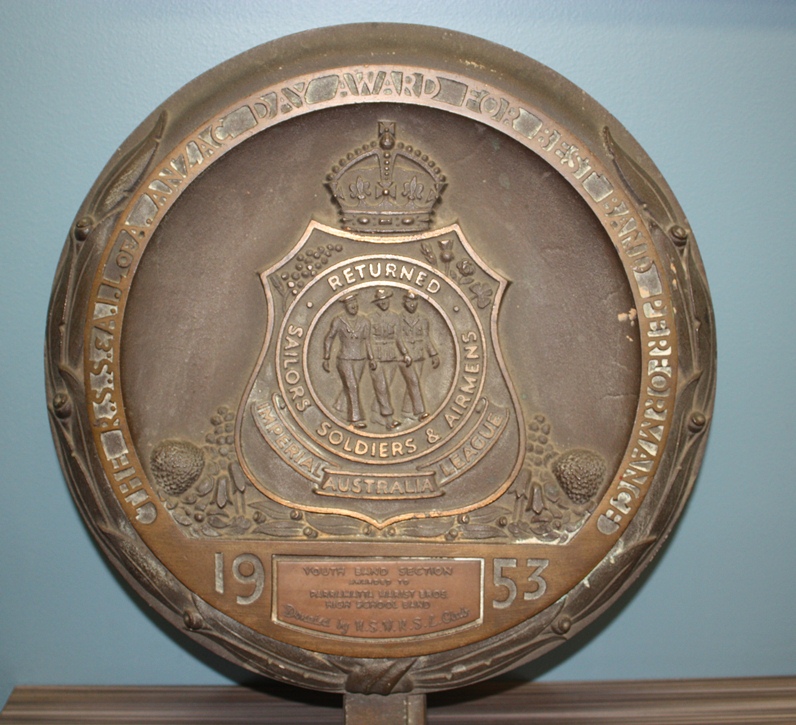 1953 Anzac Day award that MBP won for the best (youth) band performance –
Colin Walsh (Class of 55) has organised the framing of the plaque for the 1953 Anzac Day award that MBP won for the best (youth) band performance. It was presented to the school on the 30th April 2013 at the school's Anzac Day service .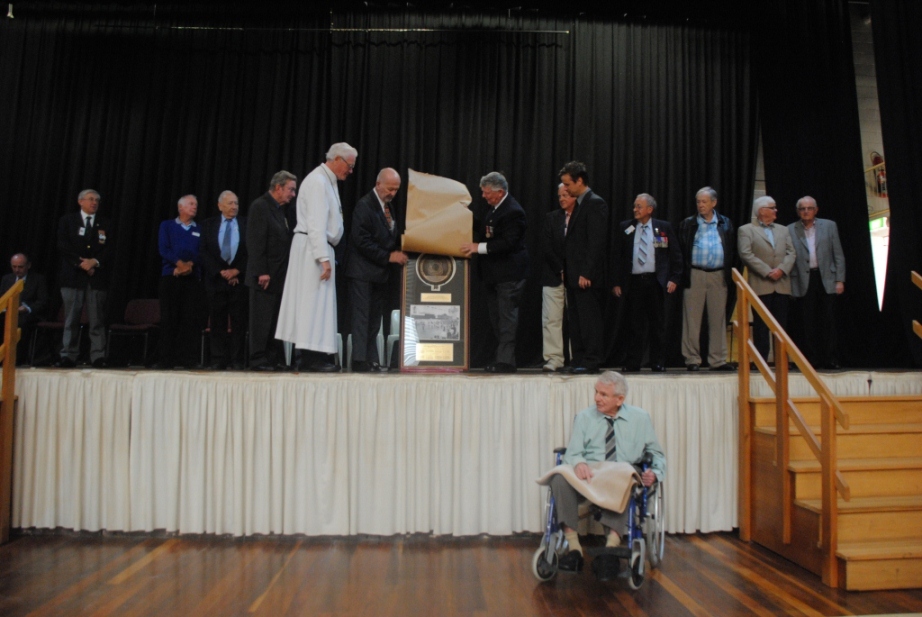 On 30th April 2013 members of the 1953 Drum Bugle band are attended Parramatta Marist High Anzac Day service to commemorate the 60th anniversary of them winning the RSL's award for the best youth band performance.  A member of the band, Colin Walsh, was very busy enlarging photos and restoring the plaque (which was in the The School's archive) The plaque was framed by the OBU and to be presented to the school at the ANZAC Day Service 2013
1955 MBP Cadet Band plays at Celebrations on Electrification of Rail to Blacktown –
Source: Pat Connelly – "The following info is drawn not from memory but from more or less contemporary notes I jotted down on the back of the photos by Pat.
MBP BAND PIC 1 shows the musicians in majestic assembly at Blacktown, participants in celebrations marking the extension of electric rail from Parramatta in 1955. We had marched a mile from the station to Blacktown Oval where a fete and sports were held. We had to go through mud to get there and a few members slipped but the band played on. There was plenty of mud at the oval too, as you can see."
Cadet Band were NSW A Grade Champions in 1960 –
Source:  Ron McLaren (1961)
The MBP Cadet Band were NSW A Grade Champions in 1960 having beaten Kings for the title. The winning trophy is shown here.
More about Ron McLaren (1961)
"I was at MBP from 1955-1961 in the A Class, I joined the Navy at 15 and spent most of the next  ten years at sea going back and forth to Borneo during Konfrontazi and Vietnam 10 times. I was pleased to discover Bob Skipholtz on your forum, he lived not far from where I was at Dundas, I recall him being a recent arrival with his family from RSA and his thick Afrikaner accent. Colin Heazlewood lived around the corner from my place, we were good mates back then. I noticed a pic of Dan Mahoney on your site, Dan was my dad's campaign manager when he was the Federal Labor candidate for Parramatta in 1963, he was beaten by Garfield Barwick on DLP preferences, pretty good effort for a council meter reader."