The Night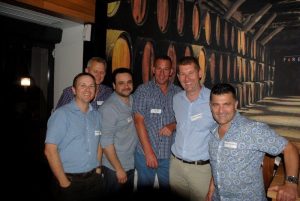 On Friday, October 16th, around 150 alumni, brothers, current and past teachers attended the Old Boys Union Annual Dinner at Parramatta Leagues Club. It was fantastic to see so many Old Boys representing classes spanning the better part of a century; from John Eather, who began his schooling at Marist Brothers Parramatta in the 1930's (he left the school in 1941) through to Alex McCaffery and George Damah, from the Class of 2013. A special mention to those classes who celebrated special anniversaries with us at the dinner:
Class of 1955 represented by House Captains Syd Cooke and Bert Godwin
Class of 1960 represented by Peter Leane, Eric Workman, Jack Munro
Class of 1965 a significant contingent led by John Flynn on the occasion of their Golden Jubilee
Class of 1970 a contingent led by School Captain Peter Williamson
Class of 1980 represented by School Captain Stephen King, who did so single-handedly!
Class of 1990 represented by Andrew Houseman and Greg Coorey (whose son now attends the school)
Class of 1995 represented by Justin Neylan, Michael McKeon, Michael Hoareau and Nathan Parker
It was also terrific to see so many past school captains in attendance: Syd Cooke and Bert Godwin 1955; Alf Smith 1961; Peter Barnes 1965; Peter Williamson 1970; Mark Procajlo 1976; Mark Atwood 1977; Greg King 1978; Stephen King 1980; Andrew Houseman 1990; Justin Decelis 1991; Brendan Decelis 1996 and James Bourne 2008. We look forward to seeing them again at our school Commencement Mass in February 2016. Again, the McCaffery's were well represented with Trevor (Class of 1982); Ben (Class of 2008) and Alex (Class of 2013) – five generations of which have attended Parramatta Marist. A warm thank you to Br Peter Stewart (former Marist Junior Principal) for attending and saying grace.
It is Never Too Late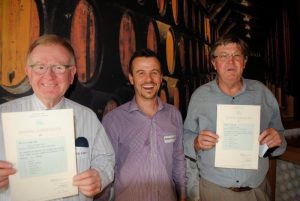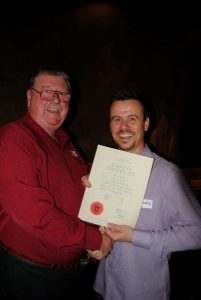 During the consolidation of the archive following the move to the School's new admin office, there were a number of Intermediate/Leaving Certificates and School/Higher School certificates that had remained uncollected. Some dating back to the late forties. Adam was able to return some to Eric Workman (1960), John Peters, Greg Corr (1964) and a couple of others.
Yes, All Current and Former Staff are Invited to the Annual Dinner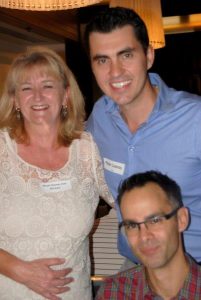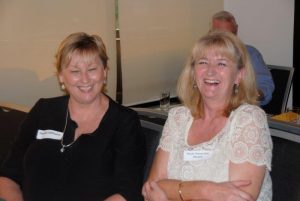 and that includes the many female teaching and support staff over the years including Nicole Thomas (nee McLean) who used to teach at Marist and Denise Williams who has returned to teach at Marist 15 years after she was last teaching at the School attended the dinner.
Fund Raising
The Annual Dinner also serves as the main fundraiser for the Brother Coman Memorial Scholarships and the framing of memorabilia to preserve the legacy of this great school. Once again, we would like to thank all Old Boys who supported the raffle and auction as we have once again raised over the $4000 required to support the aforementioned causes. Thank you to Peter Bowd for running the auction and Warren Bain, Mark Currie, Mark Procajlo, Stefan Procajlo, John Flynn, the GWS Giants, Parramatta Leagues, the Sydney Swans and the NSW Waratahs for their very generous donations to the auction. A special thank you to Mr Barry Beilby (Class of 1963) for his significant ongoing support of the Old Boys Union.
Gallery – Click or tap on an image to enlarge